Learn all about what's new and what has changed with CF technology, January – March 2017
This is the first of what will be a regular roundup of news from the Cloud Foundry technical community. Our goal is to help elevate the interesting activities happening within the many Cloud Foundry Foundation projects, as well as notable news from the extended ecosystem of products and projects. For anyone looking to keep up to date with any changes between issues, we highly recommend following the cf-dev mailing list, the projects on GitHub, or joining appropriate Slack channels.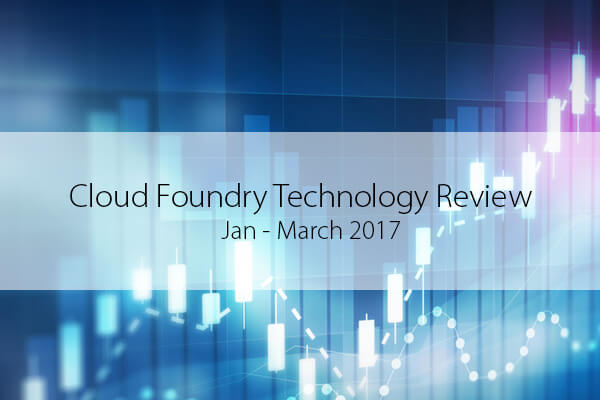 The first quarter of 2017 marks a new phase in the Cloud Foundry technology evolution — one marked by maturity for our core CF Runtime component, constant buzz and hum in the various associated projects, and many more projects being proposed or making progress.
1. Cloud Foundry Elastic Runtime
The Runtime PMC's various projects have been primarily focused on performance, security, scale and maintainability. At the same time, several ongoing efforts continue to evolve the capabilities and experience exposed to application developers.
Of particular note for deployments and downstream distributions is that in May, just a few weeks from now, the DEA/HM9000 architecture will be officially moved to the Attic ("end of life"). If you have not done so already, everyone should immediately migrate to the Diego / Garden based runtime.
The Release Integration team has been working on a new way to deploy CF, using cf-deployment as a replacement for manifest generation scripts in cf-release. It uses new BOSH features and the new BOSH CLI to significantly simplify manifest generation. Cf-deployment is still under construction and should be used primarily in dev or test environments. Cf-deployment will ultimately replace cf-release entirely. The key benefits are: (a) smaller, more composable releases, (b) making Diego the default backend, and (c) simplifying the manifest generation. David Sabetti leads this project and you can learn more information & add your suggestions/comments here.
Projects
Notes

v252 release

In February 2017, the team released cf-release (v252) – components communicating with CC via its internal API (for example: Loggregator, BBS, and TPS) will do so over mutual TLS. This is part of an effort to have all Cloud Foundry internal traffic done over mutual TLS instead of basic auth. The CC and other components must now be configured with several new certificates to establish these mTLS connections. For most deployments, the recommendation is to

use a shared CA between CF and Diego.

CLI

The CLI team has removed the older loggregator_consumer library from the tool, in favor of the newer noaa library.

Learn more.

The CLI team released version 6.26.0, which notably included initial support for Isolation Segments. Requires cf-release v254+. Previously, they released v6.24.0 (Feb 10) and v6.25.0 (Feb 27)

Diego

The Diego team has been busy releasing on a constant cadence v1.7.0 – v.1.13.0.

Learn more.

Routing

Routing team has focused on performance.

See more in the team's blog post.

Routing-release 0.144.0 happened in February 2017 & includes the results of many months of effort to improve throughput and latency performance of Cloud Foundry's L7 HTTP router, Gorouter. Learn more

Infrastructure

The team has released version 3.0.4 of the BOSH Bootloader (BBL), a cli tool designed to simplify initial installation of Cloud Foundry.

Read about it here

.

Release Integration

The Release Integration team has shipped cf-deployment-concourse-tasks, a set of concourse tasks designed to use with cf-deployment.

Learn more.

Loggregator

The Loggregator team has started work on a

Scalable Syslog Adapter.

The Loggregator team has also started work on

a supported "health nozzle"

designed to help operators quickly assess the overall integrity of log message delivery throughout the pipeline.

A quick heads-up for a change coming in August: There are currently competing supported ways for CF Services to configure log delivery and in an effort of consolidation and standardization, rsyslog will be configured on Metron as of August 1st.

UAA

The UAA team has shipped several releases, including

UAA 3.14.0.

CAPI

Zach Robinson (VMware) has become the CAPI project lead

CF-mySQL

The CF MySQL service team

has shipped v34.

Diego Persistence

(moved to active)

The Diego Persistence project has been promoted from incubating to active Released nfs-volume-release v0.1.6 that includes support for cf-scaling & blue/green upgrade of nfsbroker, additional mount options on nfs mounts, and read-only mounts

Container Networking

(incubating)

The Container Networking team has renamed their primary release repo from cf-netman to cf-networking-release,

including several breaking changes to the manifest.

Bits Service

(incubating)

The Bits Service team

has published initial API documentation

for the service.

The Bits Service team has migrated its CI pipelines to IBM's SoftLayer IaaS.

Haproxy-boshrelease

(incubating)

Geoff Franks (Stark & Wayne) proposed the incubation of haproxy-boshrelease. This was accepted into the Runtime PMC.

2. BOSH
BOSH is a cornerstone project for the community. Designed to offer a tool chain for release engineering, deployment and lifecycle management of large scale distributed services, BOSH marks its 5th birthday this month (April 2017) and in February, the team marked BOSH v261 as a notable release.

Projects

Bosh-hm-forward

Deprecated.

If you happen to reference the bosh-hm-forwarder in the loggregator repo you have until March 1st to update your references.

BOSH DNS

BOSH-aware DNS server 

proposed in Jan 2017, and you can track that project in

its GitHub repo

.
3. Open Service Broker API
Since our announcement in December, the Open Service Broker API team has been busy working on their first release. As a reminder, the Open Service Broker API provides developers, ISVs and SaaS vendors a single, simple, and elegant way to deliver services to applications running within cloud-native offerings including Cloud Foundry, OpenShift and Kubernetes. Until we have their first release to celebrate, you can learn more about the Kubernetes Service Catalog, which uses the Open Service Broker API.
4. Cloud Foundry Extensions
The CF Extensions team supports the organic community development of extensions and add-ons around Cloud Foundry technology. Projects that are initially considered to be extensions may eventually migrate to one of the other teams/component teams as they mature in both technical implementation and market adoption.
Projects
Notes

Buildpacks

Removed Ruby 2.3.1 and adding Ruby 2.3.3 in cflinuxfs2 stack

Breaking change in the Python buildpack for all Python 2.7 compiled extension modules

Java Buildpack

Java buildpack

release 3.15

is out, with some notable improvements like:

Addition of the Google Stackdriver Debugger framework

Re-enabling the AppDynamics framework

Notifications

V35 and v36 have been released, with minor feature adds.

Follow the project on GitHub.

Abacus

The Abacus project team is working towards a 1.0 version of the project, with the

most recent release

including a number of refactoring improvements, as well as a pluggable database backend (and adding MongoDB and CouchDB support).

Project Proposals

Abacus Service Broker

Abacus Service Broker

is an OSBAPI compliant service broker to provision Abacus services for users.

CredHub

CredHub

centralizes and secures credential generation, storage, lifecycle management, and access.

UniK

UniK

is an orchestration system for unikernels. UniK handles the compilation of libraries and applications for running on AWS, manages their scheduling, and ensures their health. UniK is integrated as a backend to Cloud Foundry runtime.
5. Related projects worth tracking
The Cloud Foundry ecosystem is filled with interesting projects and products. With each technical update, we'll share some projects that have recently caught our eye. This edition, we're highlighting seven great projects:
Did we miss anything? We focused on the big changes, but if we missed something, please let us know in the comments below!
Our next CF technology in review post is scheduled for late June/early July. Stay tuned & subscribe to our tag on the CF blog!