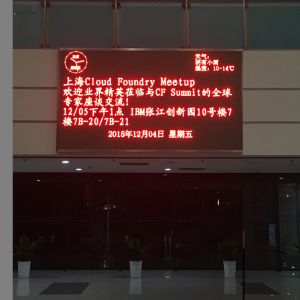 In 2015, I visited China three times. More recently in early December and previously in August and for the first time ever in early March. I have practically seen most important parts of the vast capital Beijing over the four visits, as it was also the city I visited the most. While I would highly recommend visiting Beijing in August rather than the other two other times I was there, a visit to China in general should be in everyone's radar if you are into Cloud technology. The Cloud is taking off so fast there that opportunities seem to be at every corners.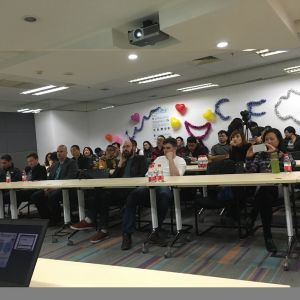 So it was not surprising to me that the CloudFoundry (CF) organization decided to hold its first CF-Summit Asia in China. They chose the more diverse and international city of Shanghai as their location which for me was a welcome choice. While I had visited Shanghai for two days on my first trip, this most recent trip was longer and gave me more time to visit this vibrant port city, while giving me an opportunity to also get a feel for the pulse of Cloud technology in that part of China.
During my first visit, in March, I had the opportunity to present at CF meetups in both Beijing and Shanghai. What struck me then immediately was how novel CloudFoundry and PaaS (in general) was to the audience. It very much felt like that attendees where there to learn why PaaS? and why CloudFoundry? My talk at the time was a bit advanced (BOSH external CPIs) and likely was not that useful to the small 25 or so present, which also included IBM colleagues.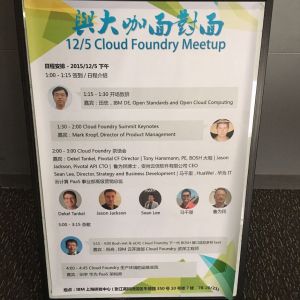 For this go around, my colleague Helen Wang from IBM Shanghai, had again organized; however, what was great is that this time, even though the CF Summit Asia, which was well attended that week had just completed to a resounding success, we got more than 50 attendees. This is in line with the estimate of about 100 attendees according to Hellen at the previous meetup, the month prior.
While meetup registrations and attendance are not necessarily an accurate gauge of interest in a particular technology, I think in China it's an important one. The reason is simply that most (if not all) meetups in that country are held on Saturdays. Generally right after lunch and go on for the rest of the afternoon… I've tried to rationalize why one would give up their precious Saturday afternoons to come listen to me talk, however, I've resigned to accept that it's part of the corporate culture in China.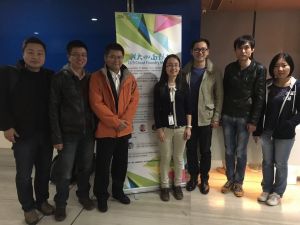 And clearly, it's also an indication of dedication and passion from Chinese engineers in a particular technology. This can easily be appreciated knowing the fact that for both Beijing and Shanghai, the meetups were held at corporate offices (HP for Beijing March 2015 and IBM for Shanghai March and December 2015) and these locations tend to be far from where engineers actually live. Implying at least an hour (on a good traffic day) commute to attend.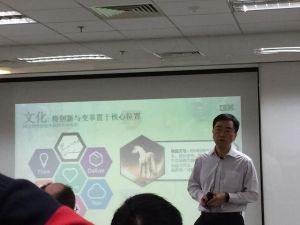 For this meetup in Shanghai, after a brief intro by my colleague Dr. Zhong Tian on IBM's dedication to OpenSource with our slogan "Open by Design", dictating all IBM strategies. Mark Kroft of VMware followed and gave an overview of a new initiative called CF Clusters aiming at allowing separation into clusters of CF apps and services thereby essentially allowing a CF environments to be treated as a collection of clusters instead of a homogeneous one where all organizations, spaces, apps, and services reside.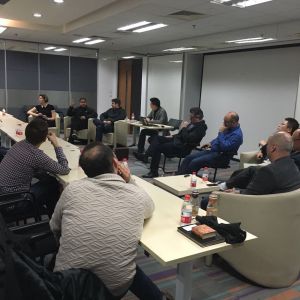 What followed next was perhaps the highlight of the meetup. A large panel that included key players from all companies involved in CF, including VMware, IBM, CloudSoft, MoPaaS, and Huawei, discussing all kind of topics related to CF as well as CF in China in particular. VMware's Hui Zhou had made the trip from Singapore and moderated. He did a great job moving the questions along while also keeping them focused but yet varied. Some highlights include discussing where Docker fits into the CF ecosystem, the state of Cloud and PaaS in China, to more esoteric topics such BOSH CPIs, as well as newer features in CF services such as asynchronous operations and service keys and also of plans for CF dojo program in China.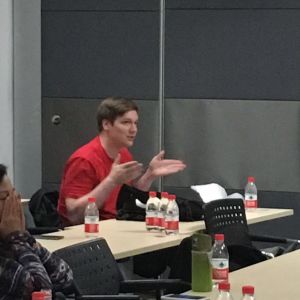 After a brief break allowing attendees to mingle and socialize over dim sums, sweets, and drinks. We gathered again for a talk by my IBM colleague Xing Zhou (Tom) who gave a redux of a talk we had given at OpenStack summit in Tokyo in October, discussing lessons learned deploying CloudFoundry in various OpenStack versions. Tom gave the talk in Mandarin which was well received by the audience but resulting in losing many of the western audience. A not so surprising event, since it already was getting close to 4 PM and the weather in Shanghai was very wet and damp that day.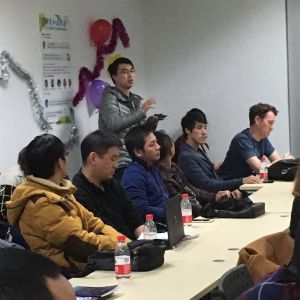 To close off the meetup and keep the audience for the last talk by Dr Weiming Lu of the local PaaS companies: MoPaaS, Helen had organize some give away souvenirs which I got a chance to help raffle. The meetup then completed with a discussion of how MoPaaS had adopted CloudFoundry as its substrate to create it's mobile PaaS platform. The result is a complete platform to create mobile applications and micro services useful in mobile apps market. Perhaps also an indication of where CF is heading in the future in China.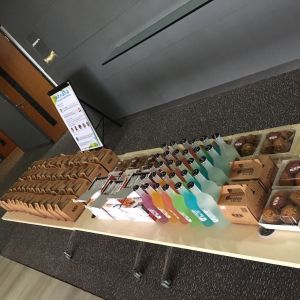 Having spent more than two months in total in China and seen the grassroot and corporate interests in PaaS, and CloudFoundry in particular, I can assess a pretty much doubling in number of attendees. This is in less than 9 months. I can hardly imagine what will happen in 2016 since at the CF summit, which had over 500 attendees, IBM had also just announced the availability of Bluemix local for the Chinese market, with VMware noting plans to also follow suit with their PCF offerings.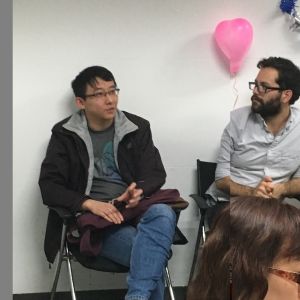 With local behemoth Huawei increasing their participations in the CF dojo and OSS code base contributions and with plans by the CF organization, according to CEO Sam Ramji, to open dojo locations in China and other parts of Asia, I will boldly predict that Chinese engineers (as a cohort) will become the second contributors to the code base in two years and in five years might challenge the US. And I for one cannot wait to visit this great land and culture again at the next CF summit in Asia and see that region challenge our Santa Clara attendees record of close to 1500 in 2015.
Cloud Foundry has Meetups around the world. To find one near you, at home or when you are traveling, visit http://www.meetup.com/topics/cloud-foundry/.
Note: all the pictures are from attendees of the meetup, posted on the page's photos section.