I just returned from a trip to Japan, where I gave a keynote address at OpenStack Days Tokyo and spent time with our Cloud Foundry user community and many startups. Throughout these conversations, the themes of digitization and a cloud-native future came up again and again.
Cloud infrastructure has become the crucial underpinning for companies developing new technology and applications. It's also the foundation for companies that are either just beginning or continuing down the path of digitization.
The cloud market continues to grow. In April, Gartner projected the worldwide public cloud services market will grow 21.4 percent in 2018 alone, going from $153.5 billion in 2017 to $186.4 billion this year. The most interesting data in the Gartner projections was that IaaS was the fastest-growing segment, with a projected growth rate of 35.9 percent in 2018, reaching $40.8 billion.
The bottom line is the cloud ecosystem is growing, quickly.
But what's driving this massive growth market?
Today and two years from now
In June, we published a report on global cloud-native trends. Because our data is collected from IT decision makers across the globe, including developers, operators and CIOs, primarily working in the enterprise (though some work at SMBs), I personally find these reports to be really eye-opening. These reports show how companies are engaging with new and emerging technology, as well as provide insights into the strategies they are leveraging to aid their transformation.
In my time at Cloud Foundry, I've noticed that these reports are good indicators of what will be leading the cloud market headlines in two years. I will continue to highlight various aspects of the findings, as I did in this recent post on the Cloud Foundry blog. There was a lot of data in this last round of research, so I'd like to boil it down to the data I see as most relevant and indicative of what the future holds.
No single solution is the silver bullet
The excitement and optimism around digitization comes with a dose of anxiety for companies about how they'll make the necessary changes. Transitions aren't easy and often a company looks for a single solution to usher it into the next chapter. But it's wise not to put all your eggs in one basket. Our research shows that companies are embracing a variety of technologies today, and that trend is going to continue. In order to meet their unique needs, companies are choosing a multi-platform approach—by which I mean they are using cloud technologies, including PaaS, containers, and serverless, in tandem.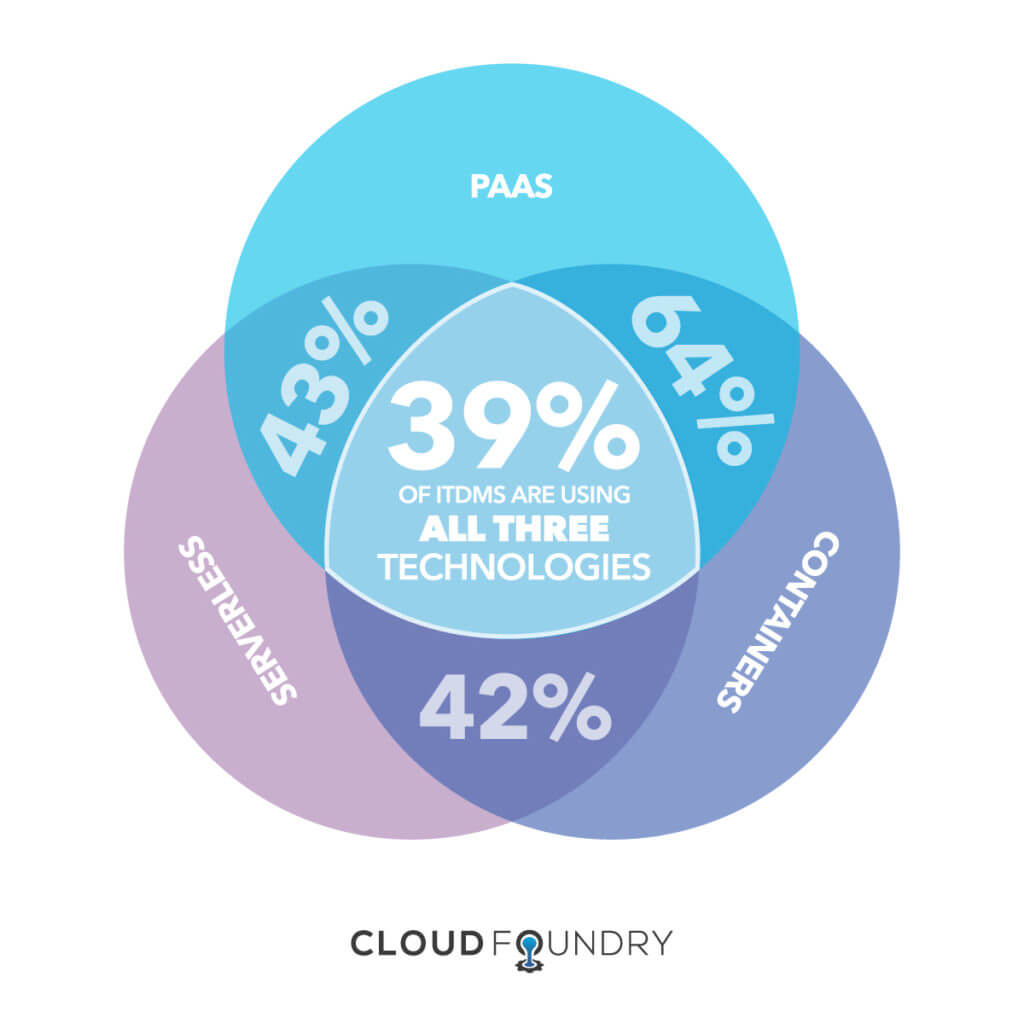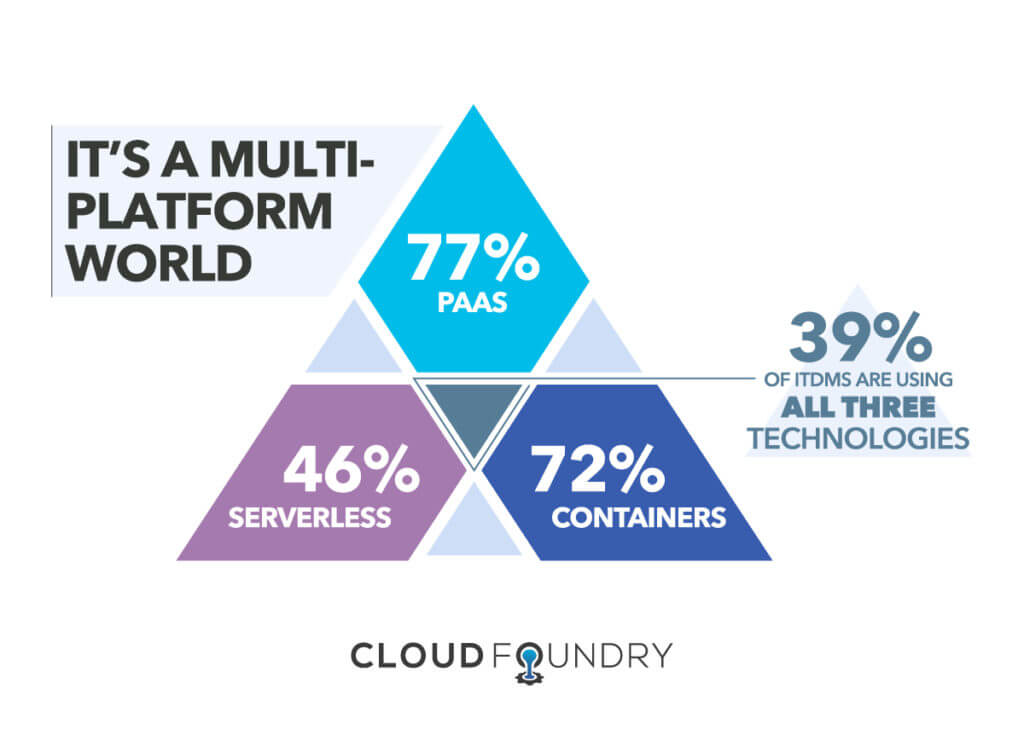 Another key takeaway from our report is the confirmation that companies are using a variety of cloud-native technologies side-by-side at an increasing pace, to both build new cloud-native applications and to refactor existing, more monolithic applications.
In late 2017, 48 percent of IT Decision Makers were using this strategy. Our latest report found a nine point jump to 57 percent using this approach. It's clear that companies favor an approach that helps them address their needs today, and sets them up for success in the future.
Something old and something new
While some may get caught up chasing each emerging new technology, I am starting to see more companies embrace an increasingly flexible and interoperable strategy, using multiple platforms and multiple cloud-native technologies. This allows developers to create new and innovative applications, but at the same time modernize existing applications.  
I know it's easy to get caught up in the frenzy and excitement of new tech! But you don't have to give into the FOMO and jump onto each new bandwagon.
It's more important to maintain a clear idea of what you want and why. What are the outcomes you are trying to achieve, and how will it best enable your business goals? The idea is to create the mix that helps achieve those goals. Ultimately it's about flexibility—embracing a variety of tools and technologies to address your diverse needs across the breadth of your organization's current and future application workloads.  
Upcoming
With projections that the public cloud market might double in size by 2021, it will be interesting to see if these trends accelerate, or shift to accommodate the evolving needs of the enterprise. As I noted at the beginning of this post, we'll continue to talk through our report findings on the blog. Stay tuned!