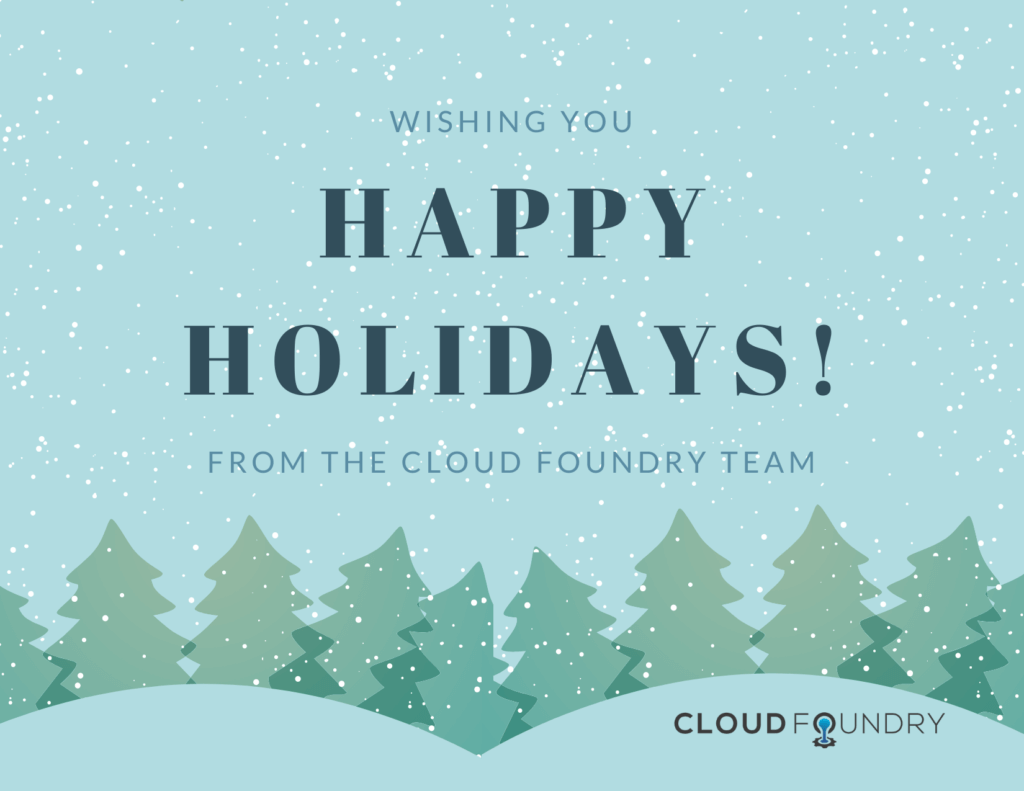 We're ending one chapter and beginning another soon: 2020 is not just a new year but a new decade. I'm extraordinarily grateful that I'm wrapping up my year with such a smart, dedicated and fun community.
Remember: The Cloud Foundry Foundation will be closed December 23rd through January 3rd, so please reach out to me or our team if you need anything beforehand. I wish you the most pleasant holiday season.
Cloud Foundry Events in 2020
Many of you have wondered how we will approach our Summits in 2020. We've had dozens of conversations with all of you in the past several months and come up with a strategy we believe will best meet the needs of our community.
As we've just announced on our blog, Cloud Foundry Summits will be one-day events co-located with Open Source Summits in North America (Austin) and Europe (Dublin). Summits will be dedicated to our vibrant contributor and end user communities. I can't wait to have lively conversations with all of you and spend some quality time together discussing best practices — and, of course, hear some live music from consummate professionals in both Austin and Dublin.
Sign up to receive new details on Austin and Dublin as they are announced.
Make the magic happen
We can't throw these epic events without you — so please check out our 2020 Sponsorship Prospectus. There are so many ways to get involved, from sponsoring a Diversity Scholarship to landing your logo on one of our famous Cloud Foundry t-shirts. And if you need some encouragement, please read my post on why you should sponsor an open source summit.
How the New York Times Got Open Source Wrong
I'm sure many of you read Sunday's article on AWS that refers to open source practices as "strip-mining." I had a few things to say in response, which you can read here. Did you agree with the reporter? I'd love to know your thoughts — feel free to leave a comment on my post or drop me an email (I'm serious).
What's Happening in 2020?
Check out my predictions for next year on VMBlog. I'll give you a teaser: 2020 will be about simplifying application development and deployment. (And Cloud Foundry has always been about simplifying the developer experience.) What are your predictions for 2020?
A Few Articles Worth Sharing
Happy Holidays to all of you and see you in Texas and Ireland next year!