A 6-hour course to cover BOSH basics, providing hands-on experience with Cloud Foundry deployment and operation.
Operating a Platform: BOSH and everything else
The BOSH tool chain lies at the heart of many successful Cloud Foundry deployments. It unifies release engineering, deployment, and life-cycle management of small and large-scale cloud software. It now works with many infrastructure providers—including vSphere, Google Cloud Platform, AWS, Azure, and OpenStack. BOSH also has a Cloud Provider Interface (CPI), which allows DevOps engineers to extend it to Apache CloudStack, VirtualBox, or any other cloud provider.
At the Cloud Foundry Summit in Basel, Switzerland, a couple of training courses will be provided to those willing to learn the basics of cloud-native development. One of them is Operating a Platform: BOSH and Everything Else. The training is by Altoros, an active member of the Cloud Foundry community and a Bronze Sponsor of the summit.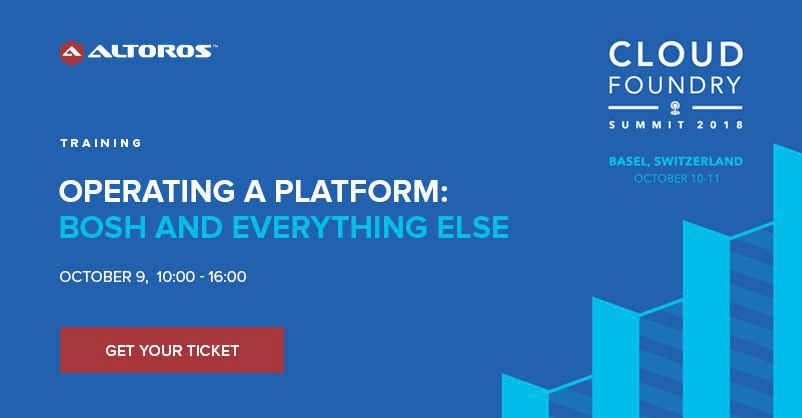 The trainers from Altoros will teach you how to deploy and manage the Cloud Foundry platform and data services that power cloud-native applications. The course will provide an operational overview of Cloud Foundry and BOSH clusters, explaining how these can be deployed with the cluster orchestration tool.
The training will be delivered to attendees from 10:00 AM to 4:00 PM on Tuesday, October 9, 2018.
Agenda and details

Here's what will be covered over the course of this training program:
Deploying BOSH Lite v2 with AWS

Deploying Cloud Foundry with BOSH

BOSH clusters and availability

Cloud Foundry basics

Cloud Foundry monitoring

Scaling

Cloud Foundry data services and the marketplace

Upgrading with BOSH
The training is targeted at people with little to no BOSH expertise but who have some experience managing Linux-based systems. Students will be provided with Amazon Web Services resources as they arrive for the course. Attendees must be proficient in English to participate in the training course and have a laptop with the SSH command installed.
To register for the workshop, RSVP here.
About the trainer
The BOSH training is provided by Altoros—a member of the Cloud Foundry Foundation, the Linux Foundation, and the Cloud Native Computing Foundation. The company is an active contributor to the Cloud Foundry community and also offers extensive hands-on courses for those seeking a deep dive into Cloud Foundry, BOSH, and Kubernetes. The topics include—but not limited to—under-the-hood mechanisms of Cloud Foundry, as well as deployment, configuration, installations, operation, HA, security, and CI/CD pipelines.
The training at the Cloud Foundry Summit Europe will be delivered by Andrei Krasnitski, Cloud Foundry Engineer at Altoros.
Andrei has 3+ years of experience in building CI/CD pipelines and automating clouds. He has participated in building a private cloud for one of the largest U.S.-based IT service providers. In addition to deployment tasks, Andrei also participated in staff training, creating technical documentation, and IT support. In particular, his responsibilities included system monitoring, troubleshooting, and enhancing apps. Today, Andrei is building and supporting Cloud Foundry environments for the enterprise customers of Altoros. You can read some of his posts at the Altoros blog.
See you at Cloud Foundry Summit in Basel! (Don't forget to register!)