Location + Accommodations
Cloud Foundry Summit North America will take place at Pennsylvania Convention Center on Tuesday, Wednesday, & Thursday, April 2 – 4, 2019.
Hotel
1421 Arch Street
Philadelphia, PA 19102
A block of rooms has been secured for attendees at the Le Méridien Philadelphia, which is a short walking distance from the Pennsylvania Convention Center.  Guest rooms are available at 231/night USD + applicable taxes. The discounted room rate is available until Friday, March 8, 11:59pm EST. We encourage you to book your reservation quickly, as rooms are subject to availability.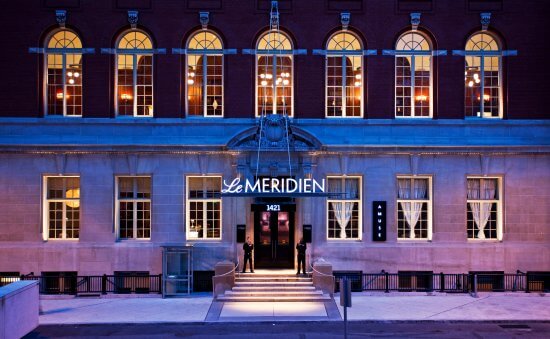 Travel
Getting to the Pennsylvania Convention Center
Airport Information:
From Philadelphia International Airport
Estimated Taxi Cost: $30 – $40 USD
Estimated Time by Taxi: 30 – 35 minutes
Public Transportation
The PA Convention Center is easily accessible by car, train, regional rail at Septa's Jefferson Station, and bus. Please refer to the PA Convention Center website for helpful information on public transportation in Philadelphia.
Parking
There are many parking options, including garages and surface lots, which are conveniently located within blocks of the Pennsylvania Convention Center. The rates for parking along the perimeter of the building vary.
About Philadelphia
Welcome to the city of "Brotherly Love"!
Famous as the birthplace of life, liberty and the pursuit of happiness, Philadelphia delivers one destination, five counties and countless things to do: fascinating museums, vibrant parks, national historic sites and famous food.
Top Things to Do
Visit the Liberty Bell – The Liberty Bell was originally used to call the Pennsylvania Assembly to meetings. It was later adopted by abolitionists, suffragists and Civil Rights advocates, making it a symbol used by many today. The bell, which is free to visit year-round, draws people from around the nation to snag a photo in front of the soaring glass walls overlooking Independence Hall.
Rocky – The Rocky Statue and the "Rocky Steps" are undeniably two of the most popular attractions in Philadelphia. Since Rocky's triumphant run, the steps of the Philadelphia Museum of Art have become an international destination. Travelers from around the world embark on their own jog up the stairs, pumping their fists in the air as they cherish the spectacular view. To finish off the experience, head to the bottom of the stairs and snap a photo with the bronze statue of Rocky, originally created for Rocky III.
Independence Hall – Birthplace of both the Declaration of Independence and the U.S. Constitution. The Independence Hall holds monumental significance to the development of the nation. In 1776, the Founding Fathers signed the Declaration of Independence in the building's Assembly Room. Just 11 years later, representatives from a dozen states met here to lay the framework for the U.S. Constitution. Today, the UNESCO World Heritage Site is the centerpiece of Independence National Historical Park, and guided tours are available year-round.
Visa Request
If you're not a U.S. resident, we recommend that you check with your local government for information on required documents and arrangements you'll need for travel to the United States. If you need a letter to accompany your visa application confirming your attendance at Cloud Foundry Summit North America, request it here.
Visa letter requests should be made 90 days prior to an event and may be submitted no fewer than two weeks prior to the event. The Linux Foundation cannot guarantee that letters will be provided in response to requests submitted fewer than two weeks prior to an event though we will make every effort to process them.
Convince Your Boss
Coming soon!
Diversity Scholarship
Education and collaboration are vital to the future of the Cloud Foundry ecosystem, and it is imperative to us that everyone in the community that wants to participate feels welcome to do so regardless of gender, gender identity, sexual orientation, disability, race, ethnicity, age, religion or economic status. Our code of conduct outlines our expectations for all those who participate in our community, as well as the consequences for unacceptable behavior.
Scholarship Program
To encourage and increase the participation of a diverse community, we are pleased to offer diversity and need-based registration scholarships and discounts to our conferences.
Cloud Foundry Foundation's scholarship program provides support to traditionally underrepresented and/or marginalized persons in the technology and/or open source communities (including, but not limited to persons identifying as LGBT, women, persons of color, and/or persons with disabilities) who may not otherwise have the opportunity to attend our events for financial reasons.
To apply, fill out the scholarship application.
On-Site Resources
Venue Accessibility
The Pennsylvania Convention Center is wheelchair accessible. If you need any assistance locating an elevator, or have other questions about accessibility onsite, please speak to a member of the Cloud Foundry event staff or visit the Registration Desk located in the Lobby.
Child Care
We are pleased to offer complimentary child care for our attendees traveling with children this year.  Professional child care services will be provided during event hours April 2 – 4. Childcare will be provided during all attendee evening events as well.  Exact start and end times will be communicated once you have RSVP'd for this service.
If you would like to sign up your child(ren) for this service, please complete the RSVP form by Friday, March 1, 2019.  If you need additional details, please email us at events@cloudfoundry.org.
Please note, we can only provide this service to those who RSVP by Friday, March 1, 2019. We encourage you to register early to take advantage of this opportunity.
Due to staffing and licensing restrictions, we are not able to accommodate on-site sign-ups.
Quiet Room
All attendees may use the Quiet Room as needed. It is a physical space where conversation and interaction are not permitted. Attendees may use for any reason, and they cannot interact with other attendees at that time.
Location will be available onsite.
Non-Binary Restrooms
Specific restrooms will be designated as non-binary restrooms for attendees who feel more comfortable using those facilities.
Communication Stickers
At registration, attendees can pick up communication stickers to add to their badges. Communication stickers indicate an attendee's requested level of interaction for both other attendees and press. Please be respectful of attendee communication preferences.
Green = Open to communication

Yellow = Please only speak to me if you know me

Red = I'm not interested in communicating at this time.
Pronoun Stickers
At registration, attendees can pick up pronoun stickers to add to their badges. Pronoun stickers indicate how an attendee would like to be addressed. Please be respectful of attendee communication preferences.
He/Him

She/Her

Ze/Hir

They/Them

No pronouns, Just my name
First Aid/Medical Assistance
If you require first aid or medical assistance, please visit our Registration Desk in the Lobby.
Nursing Room
We will be providing a private lactation room at this year's event to aid in the comfort and accessibility for our nursing attendees. The room will be available all days of the event and will be located onsite in the convention center. For location information, please check with any registration desk staff onsite.
Emergency Contacts
Philadelphia Police Department
911 or 2015-686-3060
Hospital: Hahnemann University Hospital
911 or 215-762-7000
Taxi Service: 215-GET-A-CAB
215-438-222
Rape Crisis Line
215-985-3333