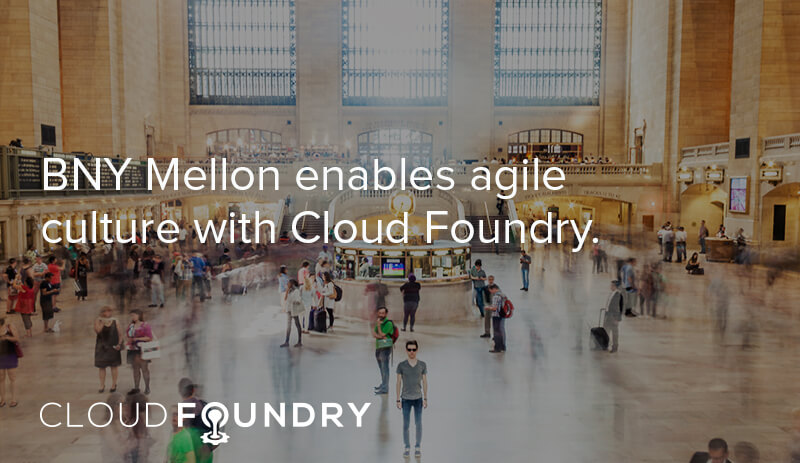 The Bank of New York Mellon Corp. (BNY Mellon) turned to Cloud Foundry on its journey to digital transformation. Specifically, the banking giant with annual revenues that exceed $15 billion (and $27 trillion under management) integrated Cloud Foundry into its open-source NEXEN platform. NEXEN supports thousands of Virtual Machines (VMs), with OpenStack and WSO2 integrated into its deployment.
BNY Mellon designed NEXEN to empower company clients to change the way they operate—with more flexibility, efficiency, and speed. The platform also includes applications that provide data-driven insights, enabling clients to make evidence-based decisions faster. Complementing the platform are new Innovation Centers throughout the world.
NEXEN gives the firm's developers "a machine in the cloud," but the business case for this wasn't enough. Instead, BNY management realized it must have a strategy that would transform the entire organization.
Within this context, the company's culture has changed from one in which its financial services drove its vision, to one in which consumer businesses are driving the technology.
The IT staff and top management has learned several valuable lessons and established many best practices along the way:
Architecture needs to be a first-class citizen

Change the culture by addressing the breadth of change required at all levels of the organization

Use Agile as a method to promote empowered, self-organizing teams focused on services, work closely with vendors to support Lean-Agile, and change governance and control processes to support Agile.

Invest in the best training and mentorship you can find

Promote reusable components

Create a DevOps culture in which developers become much more efficient, and the user experience continues to improve.
"NEXEN is not just for geeks to deliver something," a company spokesperson says. "It's about how business accepts and adopts it. If you are not driving the people part of it, you are not going to accomplish the digital transformation."
Full story: BNY Mellon's NEXEN Drives Digital Transformation with Cloud Foundry

Resources: