VMware and Google team up to bring Kubernetes expertise to the Cloud Foundry Platform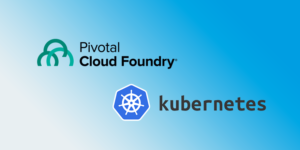 Last year, we released a container report which details how containers are helpful in switching to cloud native architectures. This means enterprises are not only adopting containers as a way to deploy applications, but looking for robust solutions to help them manage and oversee those apps. As part of those efforts, VMware and Google have recently teamed up on an engineering project called "Kubo." Kubo builds a cluster with the latest release from the Kubernetes community using a BOSH "manifest," or deployment script.
I'm excited about Kubo because it shows how the Cloud Foundry platform can be integrated well with other open source software systems. The implication here is that end users have access to an expanded set of platform capabilities that each solve different use case. That's really good news for the ecosystem of Cloud Foundry users and vendors — it demonstrates that BOSH is a release engineering tool that can build the Elastic Runtime, data services, and now container orchestration engines.
More choices, more flexibility for apps

—Thanks to VMware and Google teams, the open source community has more choice over how they build and deploy modern applications.

Containers for the enterprise

—By building on VMware's deep understanding of BOSH and Cloud Foundry, and Google Cloud's long history of managing containers at scale, enterprises have a new and excellent option for production-ready container deployments.
We're excited to see Cloud Foundry's BOSH platform used to deploy and manage Kubernetes. We're equally happy to see how Kubernetes and the Cloud Foundry Elastic Runtime platforms can run side by side.
Read more details on the joint VMware and Google announcement or follow the Github project.