Welcome to the third installment of our Cloud Foundry Summit featured speakers interview series! Today we sat down with Mojgan Lefebvre, the SVP and Chief Information Officer for Liberty Mutual Insurance, Global Specialty, to find out about her experience with Cloud Foundry, what she loves about open source and how she shaped her career.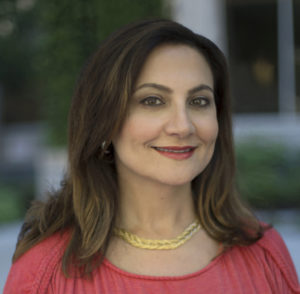 Mojgan is a lecturer with MIT Sloan's CIO development program, a board member of Women in Insurance Leadership, a 2015 Boston Business Journal Women to Watch in Science and Technology honoree, and a 2016 Global CIO Breakaway award finalist. Before joining Liberty in 2010, Mojgan was CIO for bioMerieux, a global medical device company headquartered in France. She has also held various leadership positions at Teletech, eRoom and Bain. In her current role at Liberty, Mojgan leads all aspects of technology strategy, planning and execution in over 20 countries.
Come see her keynote Leap of Agile Faith: How Liberty Leveraged Agile, Cloud and Product Focus to Rapidly and Successfully Jump into a New Australian Market Segment at 9:50 AM on Wednesday, June 14 at the Santa Clara Convention Center.
When did you first hear about Cloud Foundry? What intrigued you about it?
Mojgan: A few years ago, Paul Maritz, then CEO of VMware Cloud Foundry, spoke at one of our IT management off-sites. I was intrigued by his vision and the powerful advantages of the PCF technology stack. The level of abstraction PCF gives to developers is impressive. There is an incredible amount of technology built into the framework, enabling our developers to truly accelerate their work. I continue to be impressed by the positive impact this technology has had on our agile transformation and move to continuous integration and deployment.
How did you end up in the cloud space?
Mojgan: When I took over as CIO of Liberty Mutual's $10B Global Specialty division, I realized our users in Asia Pacific had a lot of issues with our applications' performance. The main problem was the distance from the users to the applications — which were hosted in the U.S. While building data centers in Asia was one option, it was cost prohibitive. Leveraging what Amazon had to offer with its cloud seemed like the best option. While we would be the first at Liberty to put some of our critical apps in the cloud, we decided to start small and learn and expand from there. Our first foray into the cloud was with Alfresco on AWS for document management. The results were very positive, so we continued to expand our footprint into the cloud. Today, it is the first option for any new application that we build.
What has been your path through tech?
Mojgan: I was a Computer Science major at Georgia Tech and financially supported my way through school by working as a developer at the research institute where I wrote code for U.S. unmanned missiles. I continued after school as a programmer in the telecommunication industry. While I loved working directly with technology, I had a proclivity for business and leveraging technology to empower business. So I went back to school and got my MBA at Harvard. At first, I held roles in strategic management consulting. Then the Internet boom happened, which brought me back to technology in various leadership positions with both startups and established firms. Ultimately, I started in tech and returned to the field with a solid grounding in how technology and business need to work together – which is ever so imperative today, given the pace of change and disruptive competition.
What advice would you give to people attending Cloud Foundry Summit for the first time?
Mojgan: First to listen and learn, and second, to make real connections with others with the same interests. Try to take away knowledge and relationships that you can truly leverage in your work. And when you go back to work, don't be afraid to experiment with what you've learned. I feel strongly that progress is all about being comfortable with experimenting, learning and not being afraid to fail. What we've done at Liberty in the Asia Pacific region in the cloud would not have been possible if we were not willing to take some risk. But we did it, and the project served as a model for other areas of the company to do the same.
What advice would you give to people considering technology as a career?
Mojgan: I'd tell them to wait no more and just go for it. Technology already drives a big part of our world and its role will only continue to get bigger. Mobile computing, artificial intelligence, robotics, blockchain – these are some of the technologies that are already making a big difference around us. I see it in my own industry, in insurance, and how autonomous vehicles and drones have already changed the risks associated with driving and other activities. I'd strongly suggest learning how to code and really understanding technology, and from there, thinking about how technology can help solve business problems. But the first step should be to roll up your sleeves and learn. So if you are considering technology as a career, you'll have tons of opportunities ahead!
What was your favorite game/past time as a kid?
Mojgan: Back when I was a kid in Iran, there were no computer games. I actually hadn't seen a computer until I came to the States at age 19. So I spent most of my free time reading. I read a lot of mystery novels. Nancy Drew and Agatha Christie were two of my favorites. To this day, I still love reading and learning. Keeping up with what's going on in the world is key to staying relevant.
What is your favorite part of your job?
Mojgan: I love the fact that my job allows me to have such a big impact on our business, whether it's a solution that helps us bring in new revenue streams, or leveraging new technologies like robotics and machine learning to eliminate manual work and reduce cost. No other field allows for such diverse types of impact. I also love my role as a manager and developer of talent. Leveraging your team members' strengths and helping them develop where they need to build capabilities is one of the hardest but most fulfilling roles as a leader.
What are you most looking forward to at this year's Cloud Foundry Summit?
Mojgan: I look forward to events like the Cloud Foundry Summit to reconnect with current contacts and make new ones. As well, the opportunity to listen and learn new things is very important to me. I also hope that attendees will learn from the story I have to tell at the Summit.
What do you love best about the open source community?
Mojgan: For me, it's about the transparency and sharing of information – a rich source of knowledge accessible to anyone, anywhere. The open source community is a great example of how the power of many can create and drive real change in the world.
Come see Mojgan speak about her team's digital transformation with agile and join the live conversation the entire week of June 12 using the hashtag #CloudFoundry!