An increased focus on platform engineering and some best practices for community knowledge sharing provided key takeaways from KubeCon this year.
The Cloud Foundry Foundation continued to have a presence at KubeCon + CloudNativeCon this year, held in Amsterdam. We were a silver sponsor at the event and had a booth space in the Solutions Showcase, which is the designated exhibiting area at KubeCon. The main reason we participate at the event is to shine the spotlight on two projects ― Paketo Buildpacks and Korifi, the Cloud Foundry abstraction made available over Kubernetes. Not long ago, we expressed these thoughts in length here.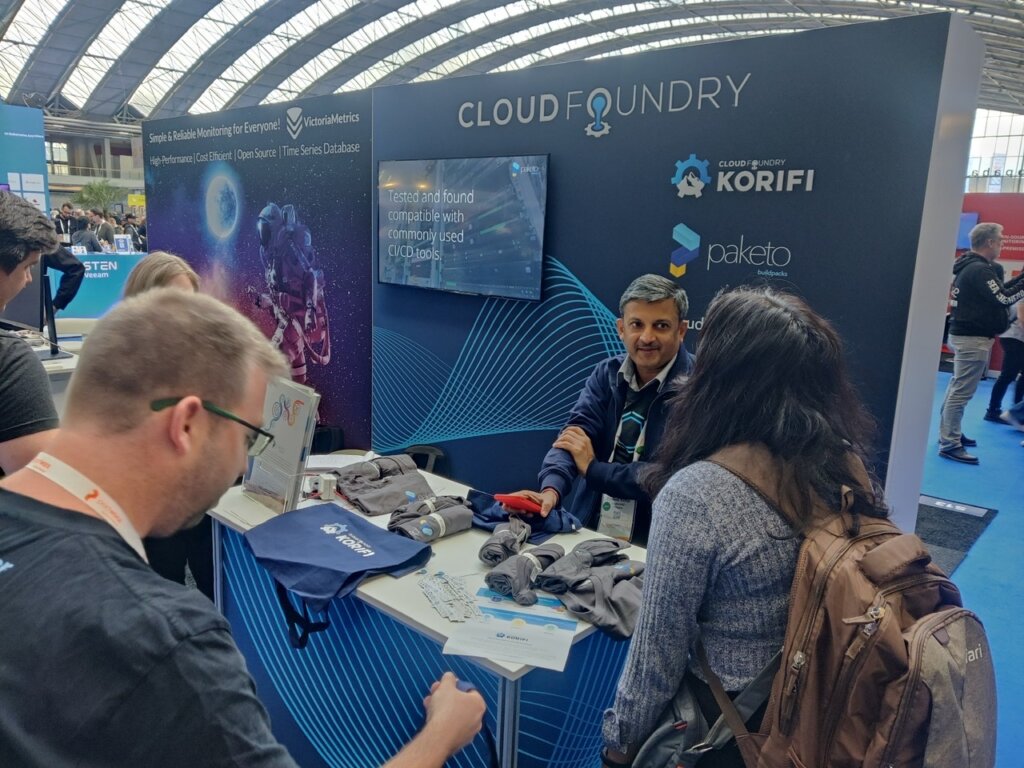 In this post, I will share a few details from the event, such as talks that touched a chord, especially with the ongoing work within the Cloud Foundry community, and conversations that happened at the booth. 
The Platform Engineering Focus
Platform engineering is gaining traction within the larger Kubernetes community.  "Kubernetes isn't a platform, but a platform upon which to build your platforms" is an accurate quote, and an idea that is starting to build a lot of steam. There is a general increase in chatter about Platform Engineering versus DevOps (which we have discussed before and don't find particularly helpful), which we also overheard at KubeCon a few times.  
Kubernetes, by design, requires a few additional tools to help engineers interact with it better. By itself, Kubernetes can provide a lot of functionality, but in order to make it fully usable it needs several software components installed peripherally.
For example, logging, ingress, and load balancing all require installations and configurations separately from Kubernetes in order to work with applications. This being said, for those using containers as immutable artifacts for deployment ― which is the most common use case these days ― Kubernetes provides the best results for operating them at scale.  Ergo, creating a platform around a Kubernetes abstraction makes most sense for teams used to modern ways of building and deploying web applications. 
This was evident from the many talks that happen on and off stage at KubeCon. 
This keynote titled "Is Kubernetes Delivering on its Promise? A Platform Engineering Perspective" by Aparna Subramanian, a Program Chair for the conference,  drives home the point of having Kubernetes as a part of the platform strategy at most organizations. It asks the key questions ―  "What problem has the technology solved and what additional problems did it create"? This represents a moment of rare retrospection in the lifecycle of a technology. It is a seeming outlier to the typical expanse of the "chasm" that we so often refer to. 
How Does This Tie Into The Work Of CFF?
We were at KubeCon to showcase Cloud Foundry Korifi to developers and platform operators. It is the evolution of the Cloud Foundry platform in the direction of Kubernetes. It incorporates Kubernetes as the container runtime and orchestrator, makes use of several CNCF projects such as Cloud Native Buildpacks (specifically, Paketo Buildpacks) and Contour to realize a complete platform, and implements a Cloud Foundry interface using several CRDs. 
Creating a complete platform for working with underlying layers of compute and offering a multi-tenant, self-serve platform for consumption by app developers has always been the core of the Cloud Foundry experience. 
The community has perfected this over the past decade and is happy to port the same experience over to Kubernetes. Several key moments in the talk by Aparna tie well into the need for a tool like Korifi. Here's one that is my favourite: 
I owe a big thanks, on behalf of the Cloud Foundry community, for highlighting this aspect of Kubernetes complexity being a big barrier for those building platforms with it. It makes the case for Cloud Foundry Korifi rather compelling. 
Gardens, Glaciers, And The Growing Need For Preserving Knowledge
Yet another well received talk at this years' KubeCon was delivered by Emily Fox from Apple, who is incidentally a Program Chair too. Titled "Gardens and Glaciers: Saving Knowledge Through Succession",  it tells the tale of how to design for continuity in the community. In her talk, Emily identifies several important ways to keep a community growing – in every sense of the word. The essence of her talk was to preserve and transfer information in order to allow upcoming adopters of technology to be successful.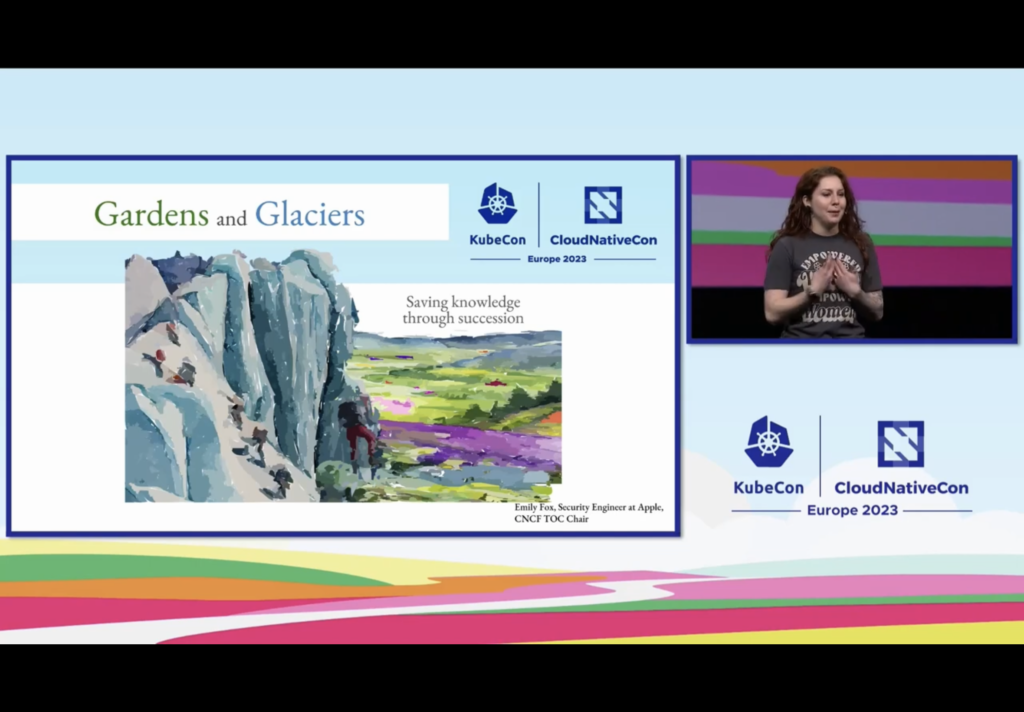 While not in the same vein as the topic of Platform Engineering, this talk was also relevant to a recent initiative for the Cloud Foundry community. We launched our first set of tutorials for Korifi. We designed these tutorials with distinct personas in mind. Our aim was to help position Korifi as a tool for folks who share a common goal of simplifying the app developer experience for their software engineering teams, but are approaching the problem of Kubernetes complexity from different paths. 
There were several other talks that were relevant to the work being done by the community:

I encourage everyone to go through the whole playlist of talks uploaded by the CNCF. I'm sure there are many more talks that may appeal to individuals. 
Cloud Foundry Day 2023
I would like to take this opportunity to remind folks that we are fast approaching the date for Cloud Foundry Day 2023, a 1-day hybrid event being held at Heidelberg, Germany on June 21st. The focus of the event will be squarely on current Cloud Foundry projects, how developers are benefiting from it, and a showcase of the platform's current (and future) capabilities. Register here!!