Last month, Cloud Foundry Executive Director Abby Kearns traveled to London to participate in COED:CODE, a diverse meetup on systems and infrastructure programming, and Monki Gras, the developer conference on craft culture. She called COED:CODE a "unique and amazing" mix of diverse people eager to discuss new technologies. At Monki Gras, she participated on a fascinating panel around packaging in open source. You can watch Abby's full talk on getting the cloud business-ready and the cloud-native panel.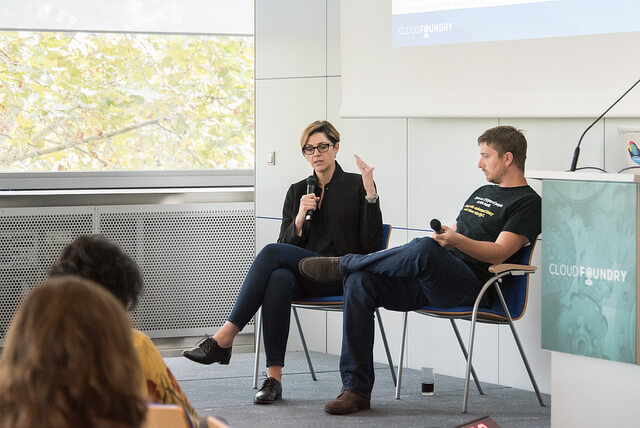 While hobnobbing around London, Abby sat down with a few local journalists to discuss the Foundation's plans for the year ahead. She called Cloud Foundry one of the industry's "best-kept secrets" and discussed these implications with Caroline Donnelly in a detailed interview published on ComputerWeekly. Donnelly writes:
The best way to explain the difference that using Cloud Foundry makes to any organization's business transformation efforts is to imagine what life would be like if it did not exist…
The interview covers Abby's vision for increasing awareness of Cloud Foundry within the industry and among developers, and the possibilities of public cloud within the enterprise.
Abby also met with ComputerWorld's Matthew Finnegan in London to share details about the Foundation's organizational structure and the growth of the project — currently at 2,800 code contributors and 140 full time committers "with revenues expected to grow at 18.5 percent a year according to Gartner." As the developer gap increases, it's more crucial than ever that developers' are aware of Cloud Foundry and its ability to make their professional lives run more smoothly. Abby explains:
"We are going to be targeting developers as well as operators, so we will build out tracks and focus on developer and language communities to make summits a place where developers can network and learn about developing applications on Cloud Foundry."
Finnegan reports: "One of the challenges for growing enterprise adoption of Cloud Foundry is that it can require an overhaul of internal processes." In their discussion about Cloud Foundry's role in the enterprise, Abby explains how it "is often used as a shim, a forcing function as it were, for digital transformation."
"[Cloud Foundry] becomes a technology enabling that business transformation."
Be sure to read Finnegan's full article on ComputerWorld for more lessons learned in the open source world and Abby's strategy for Cloud Foundry in 2017.