Five Years of Cloud Foundry Foundation
Five is often referred to as the number of humanity. Why? Count them: Five senses, five fingers in a typical human hand, five toes in a typical human foot.
There are five elements (earth, air, water, fire, and ether). There are five Platonic solids, and the five-sided polygon – the Pentagon – is of national significance in the United States.
Five is also conjectured to be the only odd untouchable number [1] and to be the only Fibonacci number that equals its position.
As we celebrate the Foundation's fifth birthday, we reflect on our journey as a community and recognize these five key aspects that have made it successful: 
Community

Technology

Collaboration

Adoption

Foundation
[1] This has not yet been proven.
Community
A long-time member of our community, Kim Bannerman, has always espoused the principle of "People First, Technology Second." The Cloud Foundry community has followed this as a core value from day one – even before the Cloud Foundry Foundation existed. By building the community around a technology that fundamentally makes developers' lives better and easier, and enables businesses to succeed in their digital transformation, the companies who got involved early – including ActiveState, Altoros, CloudCredo, GE, HP, IBM, VMware, Redis Labs, SAP, Stark & Wayne and VMware – ensured a welcoming atmosphere for helpers. 
The type of person invested in the Cloud Foundry community is looking to help their companies build for the future, and many are looking to build the platform itself. Open source fosters a very specific type of community comprised of value-driven visionaries, and the Foundation is a home to this community. This collaboration manifested early on in community events such as the 2014 Cloud Foundry Summit, where enthusiasts of the technology and its results alike could attend to collaborate and learn together. 
Technology
There wouldn't be a Foundation without the Cloud Foundry technology. The Cloud Foundry Application Runtime was developed to address a critical application delivery challenge faced by app teams and ops teams. Referred to commonly as a "platform-as-a-service" solution, Cloud Foundry simplifies the process of building, deploying, and running applications on any infrastructure, streamlining the workflow for developers. The platform was initially comprised of Application Runtime and BOSH, and over time, it evolved to encompass Container Runtime, added components such as DEA and Diego, and integrated with external technologies like Kubernetes, Istio, and others. This technological shift, thanks in large part to the proliferation of cloud technologies, has helped fundamentally change how enterprises think about writing, deploying and updating software on a global basis.
Collaboration
The success of an open source technology is neither defined by its technology's depth or its community's breadth; rather, it is defined by its adaptability and ability to build bridges to other communities. Over the years, the Cloud Foundry Foundation and the community have learned from the lessons shared by other open source communities. This is evident from the cross-community collaboration efforts, with CNI support, the launch of the Open Service Broker API, Containerd integration, Envoy and Istio integrations, Eirini, Container Runtime, Cloud-Native Buildpacks, etc.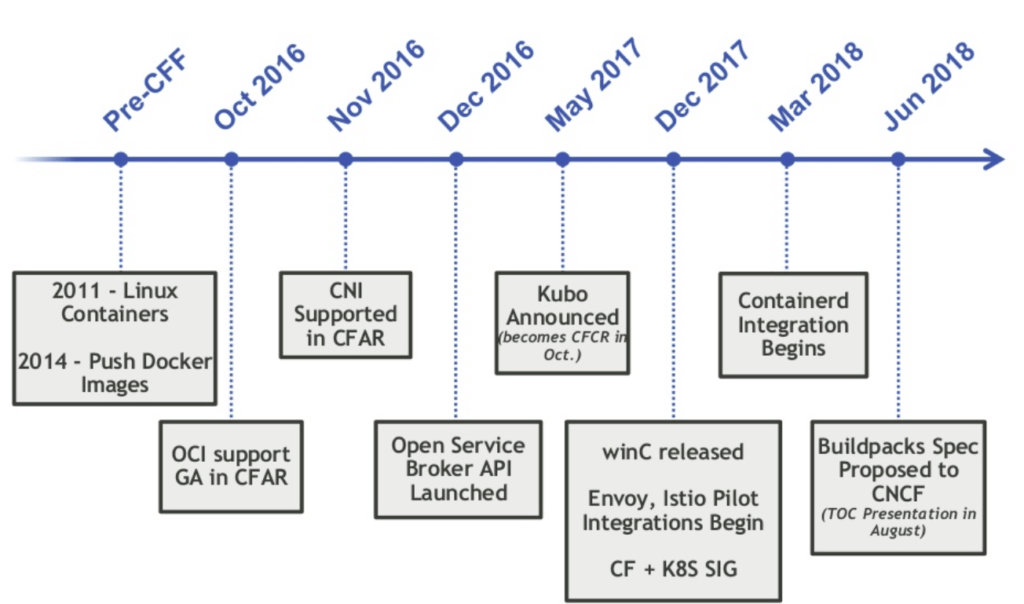 Adoption
The platform has been adopted by hundreds of enterprises around the world. Organizations such as Adfinis SyGroup, Allianz, the Australian Government, Cloud.gov, Comcast, Comic Relief, Demandbridge, the Dutch Government, Kaiser Permanente, Orange, Rakuten, SAP, Sky, Swisscom, SwissRe, T-Mobile, the UK Government Digital Services, the US Air Force, and Wells Fargo (to name a few) have been long-time users of Cloud Foundry. The community has evolved the platform continually to align the roadmap and meet the evolving requirements from cloud-native users. Today, more than half the Fortune 500 has standardized on Cloud Foundry. From Cloud Foundry Summits to special interest groups to user meetings, the Foundation continues to provide the support needed by end users to grow and evolve the platform for the best usability possible.
Foundation
So, why does the Foundation exist? To quote our charter:  
"The Cloud Foundry Foundation exists to drive the global awareness and adoption of the Cloud Foundry open source project, to grow a vibrant community of contributors, and to create coherence in strategy and action across all member companies for the sake of the project. We will do this by marketing the economic and technical activity of the entire Cloud Foundry community; governing with fairness, energy, and optimism; and growing a massive ecosystem based on application and skills portability."
From early days of Sam Ramji as the founding CEO to today under Abby Kearns' strong leadership, the Foundation has focused on user outcomes, which is why the philosophy is so integral to defining the organization.
"We see a world of computing that is ubiquitous and flexible – supporting public, private, and hybrid application environments; portable and interoperable – enabling users to move their applications wherever they need to go; and vibrant and growing – underlying a massive ecosystem of applications and developers based on an efficient marketplace."
Our shared vision as an organization and as a community has never wavered. Over the years, we have been led in varying capacities by accomplished professionals including the aforementioned Abby and Sam, Chip Childers, Stormy Peters, Mike Maney, Jil Backstrom, Scott Monson, Devin Davis, Melissa Logan, Swarna Podila (that's me!), Caitlyn O'Connell, Michelle McManus, Paige O'Connor, Tim Harris, Chris Clark, Brie Rogers, Kim McMahon, Marissa Root and many more. We are here to create opportunities for businesses of all shapes and sizes to make the best use of their most valuable resource – developer people time – with the best developer experience technology in the market.
Happy 5th Birthday to us. Here's to many more. 
Visit our Birthday page to see a full timeline, read content from the last five years and watch our Summit birthday video!