Come Join Us in The Hague!
It is my great pleasure to invite you all to the upcoming Cloud Foundry Summit Hackathon in the Hague, and announce the winners from Philadelphia. This time, we saw our first ever back-to- back winners! Special thanks to IBM for sponsoring the event. Check out the initial line-up for Summit here.
Save the Date: September 10
The Cloud Foundry Hackathon will take place on the morning of Tuesday, September 10th. Please book your flights accordingly. Registration is open for Cloud Foundry Summit, with the standard event running the 11th-12th. If you would like to take part in the Hackathon, please be sure to arrive by September 9th.
As we did in Philadelphia, we'll be donating to a charity (or charities) of the winning team's choosing. In Philadelphia, the winners donated to the German Red Cross District of Groß-Gerau Chapter's disaster relief programs (here and here) and French organization L'association AJC Violence Morale, fighting intra-family violence.
Philadelphia Summit Winner: Project 42
Congratulations to Benjamin Gandon (Gstack) and Christian Brinker (evoila) for being the first ever back-to-back Cloud Foundry Hackathon winners! Project 42 is a massively ambitious project, which seeks to incorporate the deployment of CI/CD pipelines into 'cf push'. I am very much looking forward to seeing what this project will turn into if further developed.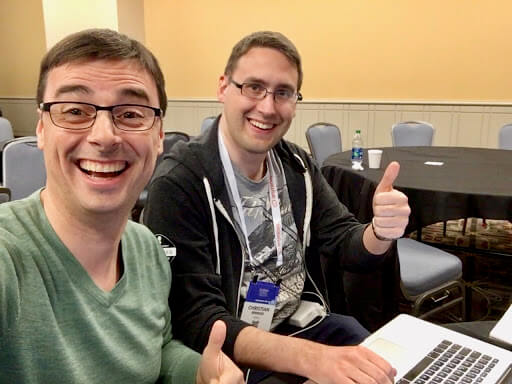 What is Project 42? Cloud Foundry is all about the developers' experience. Its greatest achievement is the 'cf push' experience. But in general, on day two, it gets hidden inside of some CI/CD pipeline. Writing CI/CD pipelines can be as cumbersome and error prone as setting up application servers was before 'cf push'. That's where Project 42 aims to augment the 'cf push' experience to create CI/CD pipelines around pushed apps. Like buildpacks removed complexity around application servers, Project 42 wants to use pipeline templates to reduce CI/CD overhead.
Updates from Previous Hackathon Projects
Here's an update from other notable projects from last year's Cloud Foundry EU Summit in Basel, Switzerland.
BOSH Package Manager: The winner of last year's EU Summit in Basel was a Maven-esque centralized package manager for BOSH releases. This was put together by Christian, Ben, Rene Schollmeyer and Jannik Heyl (both also from evoila). They've continued to develop this project, which was presented at the BOSH PMC meeting last month (tangential PSA: There are now BOSH PMC meetings, on the third Thursday of each month, listed on the Cloud Foundry Community Calendar). If you'd like to learn more, the project now has a dedicated slack channel. A proposal to enter the BOSH PMC as an incubating Cloud Foundry project may be forthcoming.
No Borders: The runner up from last year's EU Summit in Basel was a very cool project from Konstantin Kiess, Ramon Makkelie, and Ruben Koster from Stark and Wayne, which enables container to container networking between Cloud Foundry and Kubernetes clusters. Here's a talk about the project from the keynote stage at Cloud Foundry NA Summit in Philadelphia. For a more in-depth, technical run down, there are now two blog posts on the Stark & Wayne blog, and one more in the works. Stay tuned!
Attend the Hague Hackathon!
For some tips on how to win a Hackathon from the winners at evoila, please read how to win a hackathon (written in German; use Google Translate if need be!).
Hopefully, this gets your creative juices flowing for the upcoming hackathon! This is a great opportunity to support a charity of your choice, win the admiration of your peers, and maybe even get yourself a keynote demo at an upcoming Cloud Foundry Summit! Looking forward to seeing you all in the Hague.
Please reach out if you have any questions!