With over 700 people gathering in Frankfurt at Cloud Foundry Summit Europe, I thought this would be a perfect opportunity for platform developers to meet face-to-face – those who work collaboratively across company lines to build the open source Cloud Foundry platform. I teamed up with Paula Kennedy of VMware to organize the official one-day Unconference event.
We were able to secure a great lineup of speakers and sponsors including anynines, Armakuni, Google Cloud Platform, Swisscom and VMware – this event would not have been possible without their support. The Unconference took place on the Monday before Summit and was fully booked with over 100 participants:
Cloud Foundry Summit Europe unconference is packed full! pic.twitter.com/BkQEowpE3Q

— Cloud Foundry (@cloudfoundry) September 26, 2016
Lightning Talks
Punctually at 5 p.m. entered the speakers and participants who joined in the informal atmosphere with food and drinks. We began with fantastic speakers and their lightning talks and it was my first-time as a moderator for the Cloud Foundry community. As I feared, the inevitable came to pass: I forgot my lines. The community was so nice and encouraging that we simply smiled and carried on with the lightning talks:
Everybody please calm down and keep your #Cloudfoundry HA architecture simple. #CloudWisdom from @hatofmonkeys pic.twitter.com/L2jaJGTLMF — Mark D'Cunha (@mdcunha) September 26, 2016
On stage at the #unconf – @michal_maczka talking about steam pumps, smart watches and the #cloud #cloudfoundry #frankfurt pic.twitter.com/5tLY9oOHQw

— Swisscom_Dev (@Swisscom_Dev) September 26, 2016  
Breakout Sessions
Next were breakout sessions. Seven topics were generated for the smaller, 20-minute breakout sessions: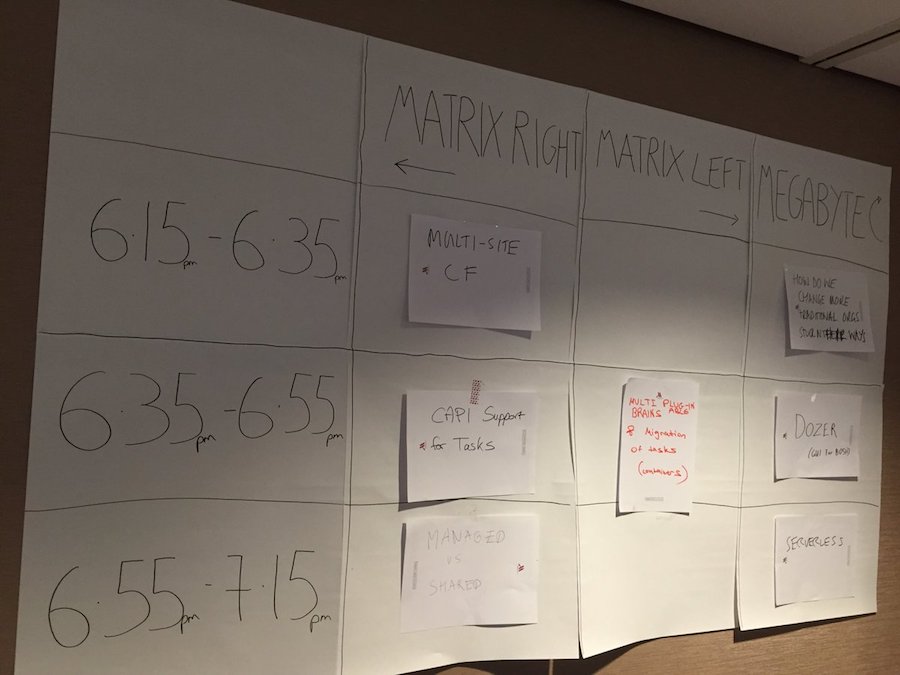 Groups went to separate rooms to keep the volume as low as possible:
Thanks @benfry_ for an interesting session at the #cloudfoundry #unconf on how to drive adoption in the enterprise; full of good opinions pic.twitter.com/FGSeG48V4d — Tim Savage (@timjsavage) September 27, 2016
Success!
Looking into the faces of the participants and seeing how pleased and happy they were with the evening – and that no one wanted to go home – were signs of a successful unconference. It brought together a diverse set of people and ideas inclusive of gender, multiple spoken languages, and even technical and non-technical persons.
A huge thank you to Paula Kennedy for all her help, support and collaboration and also a large thank you to the sponsors and speakers of the event and of course the Cloud Foundry Foundation who gave us the opportunity to organize the Unconference.
The entire moderation and also the Unconference with their speakers and discussion rounds were a great and fantastic experience. With pride I dare say: Bringing the Cloud Foundry Community together was a real pleasure. The event was a total success and it was a wonderful experience to organize it together with Paula.