Cloud Foundry Summit is in full swing in Santa Clara. With more than 1650 attendees and 126 talks, the conference is bustling with animated conversations, captivated audiences and speakers that are both informative and entertaining.
It's hard to be everywhere at once at such a huge event, so here's a quick wrap-up in case you missed something.
All the News that's Fit to Print
Keynote Highlights
Executive Director Abby Kearns kicked off keynotes on Tuesday afternoon, welcoming the community, sharing project growth and inviting developers to consider themselves heroes and heroines of a rapidly changing industry.
Emcee Kim Bannerman, Google's Developer Relations Program Manager, carried us through the afternoon and next morning, introducing speakers to jams from New Order, Beyonce, the Beastie Boys and more — in fact, SAP CTO and President of Cloud Platform Björn Goerke was so enthralled by his entrance song that he entertained us with a charming segue about Star Trek before diving into his great talk on how SAP is leading digitization with its Cloud Platform.
Dr. Kyla McMullen knocked our socks off with her brilliant and funny talk on her work at the University of Florida's SoundPadLab and how she and her team use open source to create solutions to many challenges — from helping the hearing impaired to hand amputees who want to play drums again. She highlighted the importance of diversity when developing a product and gave numerous examples in which all experiences had not been taken into consideration.
The afternoon's keynotes closed out with a panel discussion led by RedMonk's Fintan Ryan and Comcast's Greg Otto, Uma Tumala and Christopher Tretina. The Comcast team discussed the reasons they had chosen Cloud Foundry, from three unique perspectives: operations, development and line of business.
On-Site Activity
On Tuesday, dozens of end users came together for Community Day where they voted on discussion topics, broke off into groups then reunited to share findings. Check back on the blog for a forthcoming post on the topic next week.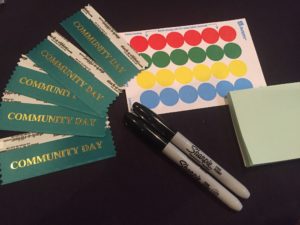 Four trainings took place, hosted by engineering teams at Altoros, Armakuni and ECS Team. Each workshop focused on a particular genre — from Cloud Foundry 101 to microservices to logging/monitoring to platform operation — and endowed developers with tools to bring back to their trade.
The VMware-sponsored Hackathon gave developers a chance to dedicate a chunk of their day to collaborating on code with teammates to develop a project that extends and enhances Cloud Foundry in some way. The Foundation's Chris Clark, IBM's Dr. Max and VMware's Brad Meiseles judged the event. Be sure to attend Thursday morning keynotes where Abby will announce the winning team!
Post-keynotes, attendees enjoyed themselves in the beautifully decorated "Foundry" where they mingled over Mexican food, played games like foosball and giant-sized Connect-4, and networked with dozens of organizations seeking developers to help advance them further toward their own digital transformation.
Wait, there's more!
Can't make it to Summit tomorrow? Live stream at Cloud Foundry Live, where you can also keep up to date on breaking news, blogs and social media.
And don't forget to keep the conversation going with hashtag #CloudFoundry. See you tomorrow!