The Volkswagen Group's quest for the connected car of the future is grounded in open source cloud technology. In June 2016, the company initiated its most ambitious strategy change to date. "We formulated a clear vision: Volkswagen is to become a globally leading provider of sustainable mobility solutions," said Dr. Roy Sauer, Head of IT Architecture and Technology for Volkswagen Group, in a keynote at September's Cloud Foundry Frankfurt Summit.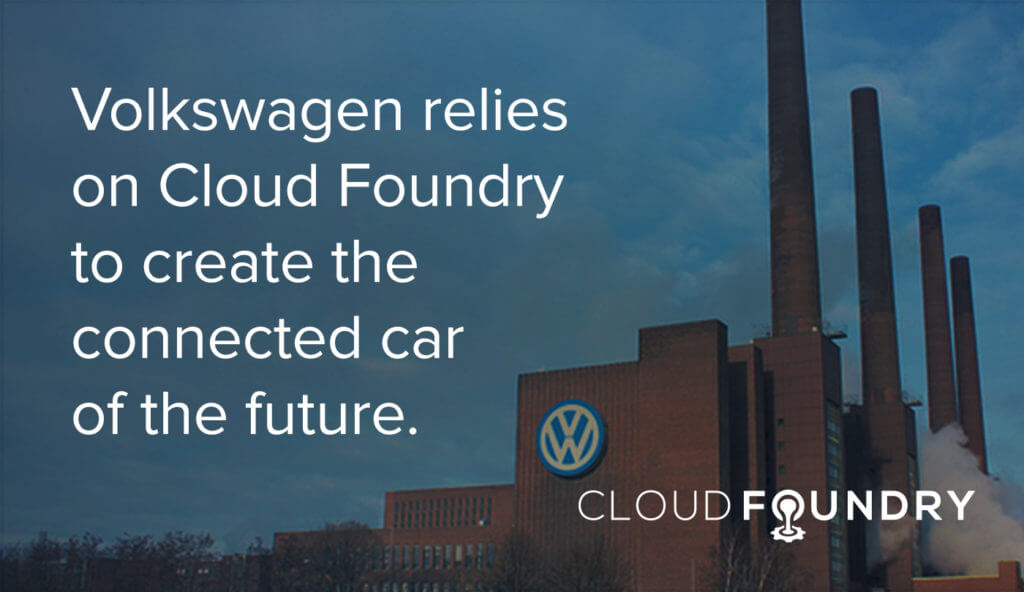 Evolving from a car manufacturer to a global service mobility provider, Volkswagen recognized the need to shift from traditional application development processes to agile, rapid development. The Group chose VMware's commercial Cloud Foundry platform to support its digital transformation.
Starting Small and Advancing Fast
The Volkswagen Group employs more than 600,000 people worldwide. Of these, some 11,000 are internal IT experts. When initiating this organizational and procedural change, they set up the Digital Lab in Berlin. With the OpenStack infrastructure and the Cloud Foundry application development environment, they had a scalable platform, available worldwide.
What a difference a year makes. Though the team started from scratch in 2015, by end of 2016, they had 50 internal people working on cloud technologies. "By the end of this year, we will have around 100 internal people working on development there," Carsten Schade, Head of Integration Technologies said.
Berlin was the first lab, and others are being set up to meet the demands of the whole business. "The group-wide global cloud infrastructure is a multi-cloud environment, based on OpenStack, with VMware Cloud Foundry on top of it," Sauer said.
"With this open source product, we are independent from single cloud providers but we can also leverage all public cloud providers," he stated. "In addition to our on-premise OpenStack cloud, we can meet the demands of the huge company and global footprint we have."
Connecting Everything Via the Cloud
In each of the million cars Volkswagen produces each year, there are sensors. These sensors detect vehicle speed, for example, or proximity. "We have a high volume of data collected with our cars," Sauer said. "From 2018, this will all be connected to our data centers and also connected to each other."
In order to provide new mobility services, the company needs to collect this data, analyze it, and store it. With safety and security of the data being paramount, Cloud Foundry still offers the flexibility to store some of the data in the public cloud, and some on-premise. Sauer relates, "Cloud Foundry enables us to combine our internal on-prem cloud with several external cloud providers. The beauty is that we can move workloads between providers and, for the developer, it's always the same: the same platform, the same methodology, the same environment."
Volkswagen moved its first application from a public cloud environment to the group IT private on-premise cloud in about three weeks. "We went live on time and in budget," Schade said.
The team's success is attracting more IT team members to the cloud project. The strategy going forward is "cloud-first," Sauer said. With the foundation established, including a CI/CD toolchain in the Group IT cloud platform, new apps are designed as cloud-native, and traditional applications are being redeployed. "Now we would like to increase the speed and to move more and more applications on top of the cloud," Sauer stated.
Learning and Growing through Open Source
Volkswagen is embracing open source – not just the Cloud Foundry and OpenStack technology it has adopted, but the philosophy and community aspects as well. "We are really happy to be part of the open source community," Sauer said. "I strongly believe in open source, not only in leveraging the technology, but also the partnerships, the community idea, getting the experience and knowledge out of partners we find here in the community."
"My wish is that we as a company engage more and more in this community, that we come back to the next Summit having created more partnerships and, of course, that we come back as code committers giving something back to the community."
The Volkswagen Group is a member of the Cloud Foundry Foundation. Read more here: https://www.cloudfoundry.org/volkswagen-joins-cloud-foundry-foundation/
Sources: