My first time leaving the country
This past April, I attended Cloud Foundry Summit in Boston.  It was amazing! There were Cloud Foundry end-users and developers, open source contributors and different cloud companies like Google, Microsoft and IBM at the Summit. It was my first time traveling out of Cameroon (my home country) and  my first time attending a summit this big! I have three words to for it: It was FANTASTIC! <: excited>
Thank you Cognizant and Cloud Foundry for the diversity scholarship! The experience was incredible <: smile>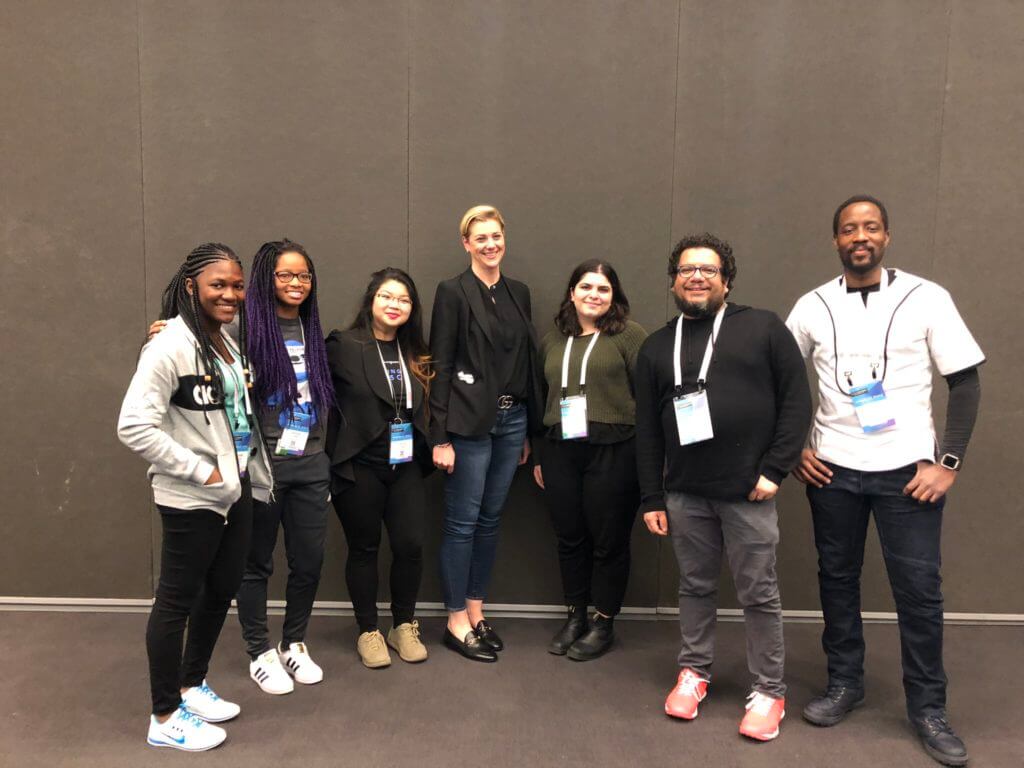 What I learned at Summit
At the Summit, there were a lot of talks about security on Cloud Foundry, cloud-native apps in .NET and Java, Serverless and Cloud computing, 12 factor apps, using CredHub and Vault, using Cloud Foundry and Kubernetes, and so on… I was most interested in the talks and demo projects that had to do with blending Cloud Foundry and Kubernetes <: unique> but I will throw some light on security on Cloud Foundry because well… security is one of the most important features in any application or platform.
Security is one of the core features of every platform — especially a platform like Cloud Foundry that is being used by many companies, as many of these companies interact with a lot of consumers. So, it is very necessary for Cloud Foundry to implement strong security so as to keep these companies and their consumers safe.
With Cloud Foundry, you get a platform that does a lot for you and allows you to be faster because you don't have to build security into the platform by yourself. We all know a lot of companies and developers are using agile development today. This results in developers thinking about security and integrating security into their applications, thereby making security everyone's job rather than pushing a security constraint to the end that validates whether or not an application is suitable for deployment.
Big shout out to Molly Crowther, Cloud Foundry vulnerability management lead, for the incredible work done on security <: smile>
In addition to learning a ton about Cloud Foundry security, I learned a lot about Cloud Foundry and Kubernetes. I learned about Cloud Foundry's two runtimes: Cloud Foundry Application Runtime (CFAR) and Cloud Foundry Container Runtime (CFCR).
How does it work when we deploy an application using Kubernetes? Let's say we want two replicas of an application on a 2-node cluster. Kubernetes replicates the application on the worker nodes (one instance per node). What happens when one node goes down? Kubernetes reschedules the containers on the existing node. The problem with this is the remaining node is overstressed and Kubernetes doesn't try to recover the failed worker node. But, Cloud Foundry BOSH with the help of CFCR can recreate this worker node to reduce this stress.
More fun at Summit
That's just the tip of some of the interesting talks I saw at the Summit, but there wasn't just talk! There were food, drinks, games — and I even participated in the "Fun Run" that took place around Boston. The food was different from what I am used to, but it was good. I especially liked breakfast <: smiled>
The other diversity scholars and I met the Cloud Foundry Foundation Executive Director Abby Kearns. We discussed diversity, technology and how we could create a diverse world, where workers and developers are not judged by color or gender. We also talked about how we could bring amazing technologies like Artificial Intelligence and Cloud Computing to developing areas like Africa.
How to apply for the Diversity Scholarship
I hope this blog gets you interested in cloud and Cloud Foundry Summit! You should definitely register to attend the next Cloud Foundry Summit in October 10-11 in Basel, Switzerland!  You can apply for the 2018 EU Summit Diversity Scholarship here.