We're right in the heart of Cloud Foundry Summit 2016! Monday's behind us and Tuesday's talks are well underway. Let's take a look back at yesterday's highlights:
Memberships & Certifications
We

announced

that

Allstate

has joined Cloud Foundry Foundation as our newest Gold member.

We were also thrilled to announce the addition of five new Silver members:

Volkswagen

,

Dynatrace

,

Evoila

,

Gemalto

and

Hazelcast

.

Cisco announced it has moved its Foundation membership to the Platinum level, reinforcing its commitment to Cloud Foundry.

Atos

announced

certification of its Cloud Foundry platform.
Keynote Takeaways
Our CEO Sam Ramji kicked off this year's Summit with his keynote "Zen and the Art of Platform," drawing comparisons between Zen Buddhism and the open source community. He hit home some major points, including:
"Open source is a positive sum game. The more people we can support, the greater the platform. That's why we built Cloud Foundry."

The need for Cloud Foundry as an industry-standard platform, comparing a standardized platform to standardized electrical sockets: Once the standard exists, advanced technologies can continue to be built on top of it.

The average enterprise uses 4.6 clouds. A single cloud just isn't a solution anymore; multi-cloud is the answer and Cloud Foundry is the platform supported by the companies that run their workload on multiple clouds.
Each keynote speaker gave us something to chew on for the rest of Summit:
And on the floor?

Attendees got the chance to speak with Cloud Foundry members and customers at booths in the exhibit hall while chowing down on barbecue wings, playing foosball and ping pong, and getting their cartoon portrait drawn by the talented Wolfgang Niesielski.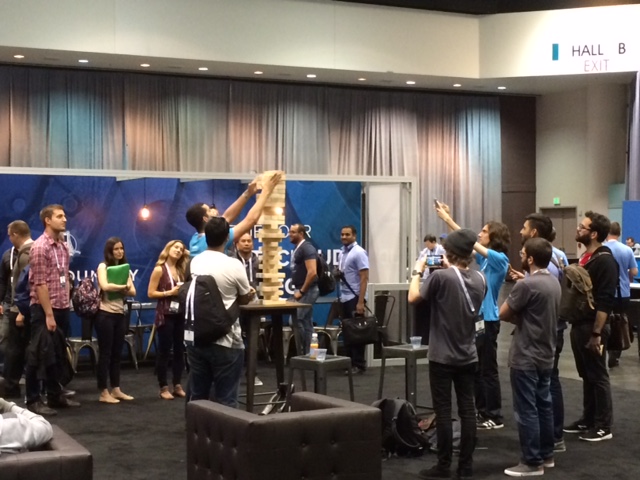 Festivities went on late into the evening with parties hosted by member companies in the Hyatt Bar and patio. Attendees made connections with one another, mingled and carried on conversations into the night, bolstering our Cloud Foundry community and creating an ever-stronger cohort!
Check in tomorrow for a look back at Tuesday's events!
Also be sure to tune into our Live video stream all week.