GE Digital Principal Architect Steve Winkler gave us a peek at his Cloud Foundry Summit Berlin talk on the role Cloud Foundry plays in the industrial Internet.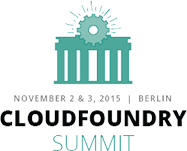 How did you get involved in Cloud Foundry?
I actually got involved in Cloud Foundry while I was working with SAP. I was leading their Open Cloud Initiative and got the company involved with the project after I noticed that IBM and VMware were going to work to establish a Foundation to manage the project. I then joined the Predix team at GE, and amongst other things, have spent this year creating an Open Source Program Office, with Cloud Foundry as our primary focus.
What are you speaking about at Cloud Foundry Summit Berlin?
I plan to talk about the Industrial Internet, and the unique requirements that we have encountered while creating Predix over the last year. As has often been said, software is eating the world, and while that¹s no different in the industrial world, the requirements we see are unique.
What do you hope people will learn from your talk?
I imagine the audience will largely be software folks, and I would like them to gain an understanding of Industrial Assets, how important they are to the global economy, and how GE's Predix Platform (which is based on Cloud Foundry) will enable new value through Industrial Internet Applications.
What excites you about being part of the Cloud Foundry ecosystem?
The thing that excites me the most is the potential for rapid innovation by the community working together. When it comes to creating applications that scale to the levels we need, cloud computing is clearly the way forward. Although this community is still very young, it has a long list of participants that are helping drive the technology forward very quickly. I¹m particularly interested in helping the foundation figure out how to scale the Dojo process to include more participants, which is why we created the GE Industrial Dojo.