I recently had the pleasure of attending the Cloud Foundry Summit 2017 in Santa Clara, California, on a scholarship from the Cloud Foundry Foundation. I was born in Uruguay, and have been working in IT for more than 12 years as a developer, architect and tech lead. I've also been a teacher and consultant for Java Oracle and Spring Framework certifications.
One year ago, I decided to leave my home in Uruguay to pursue a Masters Degree in Computer Science at the Rochester Institute of Technology in Rochester, New York.
After taking some Cloud Foundry courses, I wanted to learn more about Cloud Foundry and this was the perfect opportunity. I applied for and received a scholarship to Summit from the Foundation, which gave me this amazing experience, which I wouldn't have been able to attend any other way.
I would like to thank the Cloud Foundry team to allow me to be part of this amazing community, for being inclusive and supporting women in tech.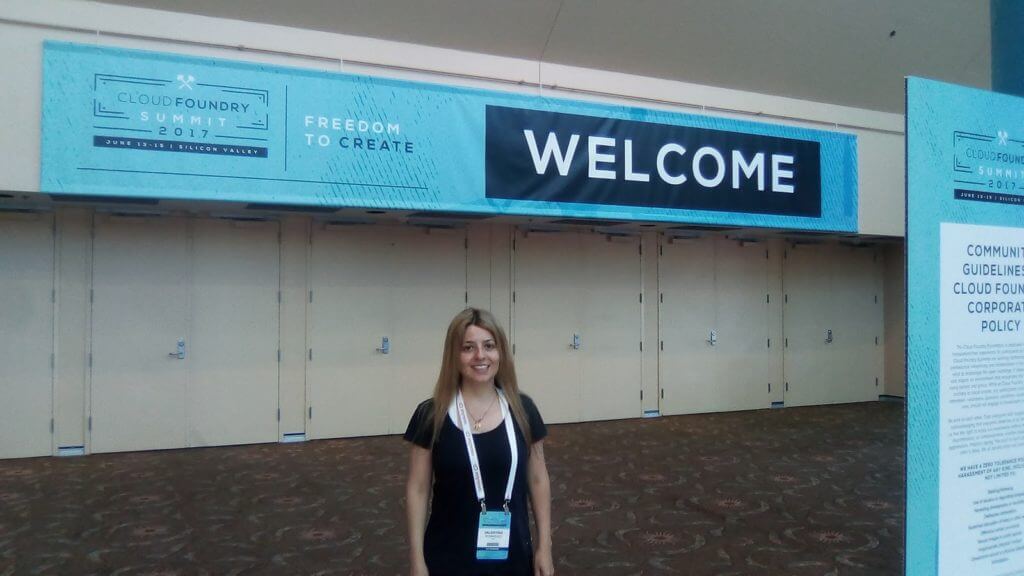 The conference was held over three days and was a complete success, with more than 1600 participants attending the conference and even more remote attendees watching the event on-line.
The first day, attendees had the opportunity to participate in the Community Day, Hackathon and training courses. The Community Day consisted of a series of group talks on different subjects, including migrations and security. Every person chose a topic, which was written on the board. Everyone in the room had the chance to vote on these different topics and participants were gathered according to their chosen topic. After interesting and revealing breakout discussions, each team shared its issues and thoughts with the larger group. The participants had the opportunity to resolve issues and get advice and opinions from highly qualified professionals.
The Summit tracks included topics such as Cloud-Native Java, Cloud-Native Node.js, Core Project Updates, Machine Learning and Big Data, Polyglot in-Memory, etc. These sessions allowed me to learn about new releases, research, new projects and technologies, how to resolve common problems and best practices. There were presentations on trending topics such as Blockchain, Big Data, Machine Learning, AI, Java Memory, Monitoring, Logging, etc., how they are related and how they can improve the deployment process with Cloud Foundry.
The web agenda was quite useful, as it gave me the chance to create my own schedule based on session topic and skill level.
Cloud Foundry Summit offered "The Foundry" area, where the participants were able to refresh and connect with other participants. The Foundry was an amazing area created to relax, share and learn about products related to Cloud Foundry. Companies' booths were located in this space, where demos were presented and attendees had the opportunity to hear what these companies do and talk with experts about any question you could have.
On the last day I had the pleasure of participating in the "Diversity Luncheon: Why Women Leave Tech: Research & Interventions." Karen Holtzblatt gave an inspirational speech about women in tech, what women need professionally and how to generate more awareness about why women are leaving tech. Karen is Founder and CEO of the Women in Tech Retention Project.
After Karen's presentation, we had the pleasure of hearing the stories of amazing women in tech on the Diversity Panel, including Kim Bannerman, Cornelia Davis, Opal Perry, Dr. Kyla A. McMullen and Rachel Reinitz. They shared stories about their paths and what led them to be who they are today, and also gave advice to the attendees on how to resolve internal conflicts and to move forward positively. It was an enlightening experience to share the table with other amazing women and to hear other revealing experiences.
At Summit, it was announced that Microsoft has just joined as Gold Member of the Foundation. If you are interested in learning more about Cloud Foundry, the community offers free training courses as well as the Cloud Foundry Certified Developer program.
Attending Cloud Foundry Summit was one of the most enriching experiences I've ever had — it was invaluable and gave me the opportunity to learn about the Cloud Foundry ecosystem, be a part of this amazing community and network with amazing professionals and companies. I am so grateful to the Cloud Foundry Foundation for this incredible opportunity!