Cloud Foundry Community Awards Winners
At the 2018 Cloud Foundry Summit in Boston, we started the tradition of Community Awards which continued at our European Summit in the fall. The Philadelphia Summit was the third time we have recognized our Cloud Foundry community members for their commitment and accomplishments, and we couldn't be prouder to reveal the recipients below. The winners were nominated by their peers (that's you!) and we were thrilled to present the awards to these amazing individuals on the keynote stage in Philadelphia.
Winners: The Quiet Achievers
In the first category, the two winners  were the most perfect ones – they are so quiet they did not even attend Summit… <insert laughing emoji>
Thank you, Claudia Beresford, for your amazing contributions to the Garden project. If Cloud Foundry rarely deals with the latest kernel issues affecting containers, the reason might well be Claudia.  Whether it's the infamous "D-State containers" issue (that you've probably never heard of even though it took months of investigation and difficult workarounds) or cgroup bugs or overlay filesystem issues, Claudia is very often the garden team – and Cloud Foundry's – secret weapon against low level problems! Read an example of Claudia's dedication in her most recent post.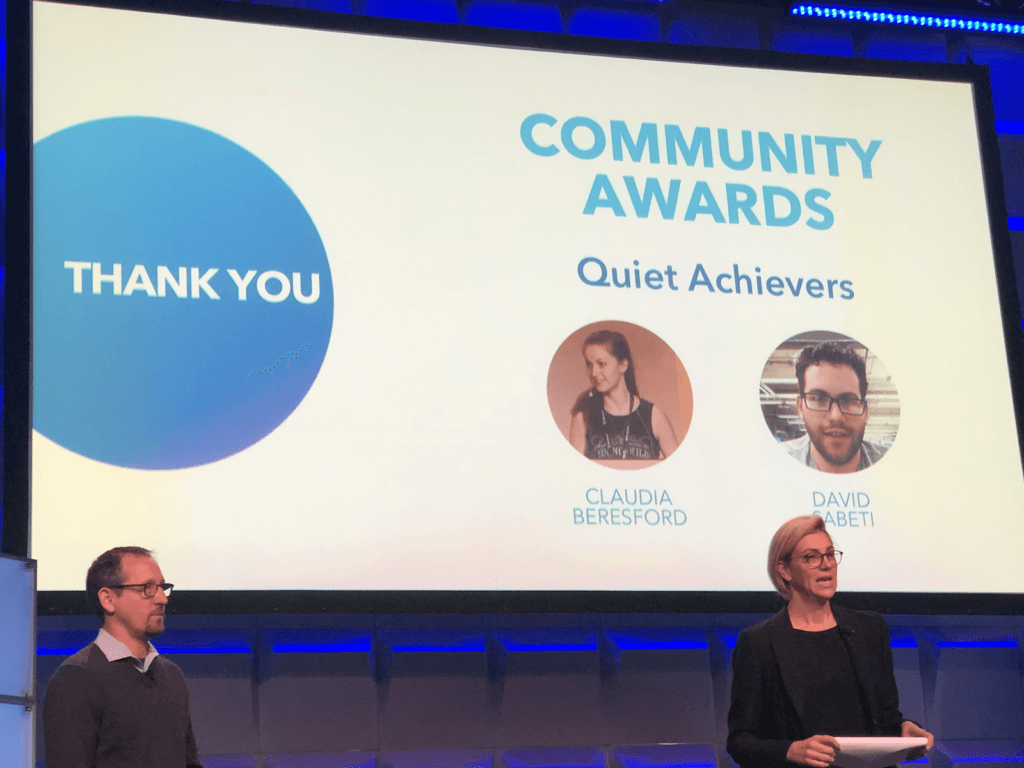 Our second Quiet Achiever is David Sabeti, who has been leading cf-deployment efforts. David Sabeti joined the Cloud Foundry community in its early days as an intern.  He played an instrumental role in the development of many Cloud Foundry projects and continues to be that Quiet Achiever for cf-deployment today. Thank you, David.
Winners: The Advocates
For our next category, The Advocate, our community chose the two individuals that truly advocate our technology within and outside our community, are advocates of the change we all want to see in our community, and have inspired every one of us that interacts with them. Congratulations to Dan Jones and Steve Greenberg.  Watch Steve's and Dan's keynotes from Basel if you want to learn more about their empathy, humbleness and willingness to grow. It was our honor to recognize Steve Greenberg and Daniel Jones for being such great Advocates.
Whether it is Steve's quick weekend effort on Try Cloud Foundry that helps direct folks new to the community or Dan's eloquent way of helping folks understand with his boxes and lines drawings on a napkin.
Thank you, Steve and Dan, for being role models to all of us, within and outside the Cloud Foundry community.
Winners: Coolest User Stories
Dick's Sporting Goods:
Early last year, DSG set out to change their technology culture and Cloud Foundry was crucial to this transformation. Leveraging Cloud Foundry has allowed them to focus their attention on what is best for their customers and to deliver value and a best in class retail experience.
In less than a year, the Dick's Sporting Goods team onboarded over forty product teams and ramp deployments onto Cloud Foundry. This accelerated modernization effort culminated in a record-breaking holiday shopping season for them. The platform's ability to provide a stable, scalable environment for their software drove hard business outcomes and allowed teams to accelerate the pace of innovation in areas like product search and omni-channel experiences.
Congratulations to the entire Dick's Sporting Goods team on their hard work to drive change!
Comcast:
Comcast adopted Cloud Foundry as part of their digital transformation initiatives even before "digital transformation" was cool.  A key motivator for them was the platform and application resiliency in their back office tools that service their customers, while at the same time enabling seamless deployment to any cloud provider, public or private.  The result was an 81 percent improvement in business impact minutes over the first two years, 50+ percent improvement in Time to Market, in addition to significant productivity improvements for our development teams (50 – 75 percent) enabling product teams to focus on customer experiences.  
"The majority of our customer and business critical systems from Customer Experience Technologies run on Cloud Foundry, in addition to other lines of business such as Business Services, Xfinity Mobile, Digital Home, Xfinity Stream, etc.  We currently manage over 40,000 applications running on Cloud Foundry in both our private and public clouds from over 2,500 developers with only a handful of people."
Comcast is not only a user of open source, but also a huge contributor across many open source projects and communities. Comcast has contributed the Cloud Foundry Telegraf buildpack and BOSH documentation to the Open Source community.
Winners: The Cloud Foundry Foundation Award
The Unconference is undoubtedly the most popular event at every Summit. There is a tremendous amount of work that goes behind the scenes to make that magic happen. We'd like to sincerely thank our entire community, but the two key people, without whom the unconference wouldn't be the same are Ivana Scott and Sara Lenz. Thank you both so much for your vision and beautiful execution, Sara and Ivana!
Next Up: EU Summit Community Awards
We rely on our community to nominate your peers for these much-deserved awards. The next nomination cycle will open in August — stay tuned!