This is the fifth in a series from our Cloud Foundry community on why to attend Cloud Foundry Summit in Boston, April 18-20. Register here.
Prior to each Cloud Foundry Summit, the Foundation staff comes together to decide how we can best incorporate conversations about diversity and inclusivity into our event. We believe that diversity is key to strengthening our community, the project, the ecosystem and the tech industry at large. This is why we offer Diversity Scholarships to our events, are open about our efforts to reach gender parity on stage and host a Diversity Luncheon at every Summit.
Last year, we created the Junior Ambassador program, which was modeled on the Cloud Foundry Ambassador program and was designed to serve as an entry point into the open source community for teens interested in taking the career path to become the developers of tomorrow. The program gave high school-aged girls the opportunity to meet experienced adult members of the community, to connect with like-minded peers and to experience first-hand the possibilities of a career in open source.
The Junior Ambassadors attended Summit, went to a variety of technical talks and were featured guests at a special reception with Abby Kearns and Dr. Kyla McMullen.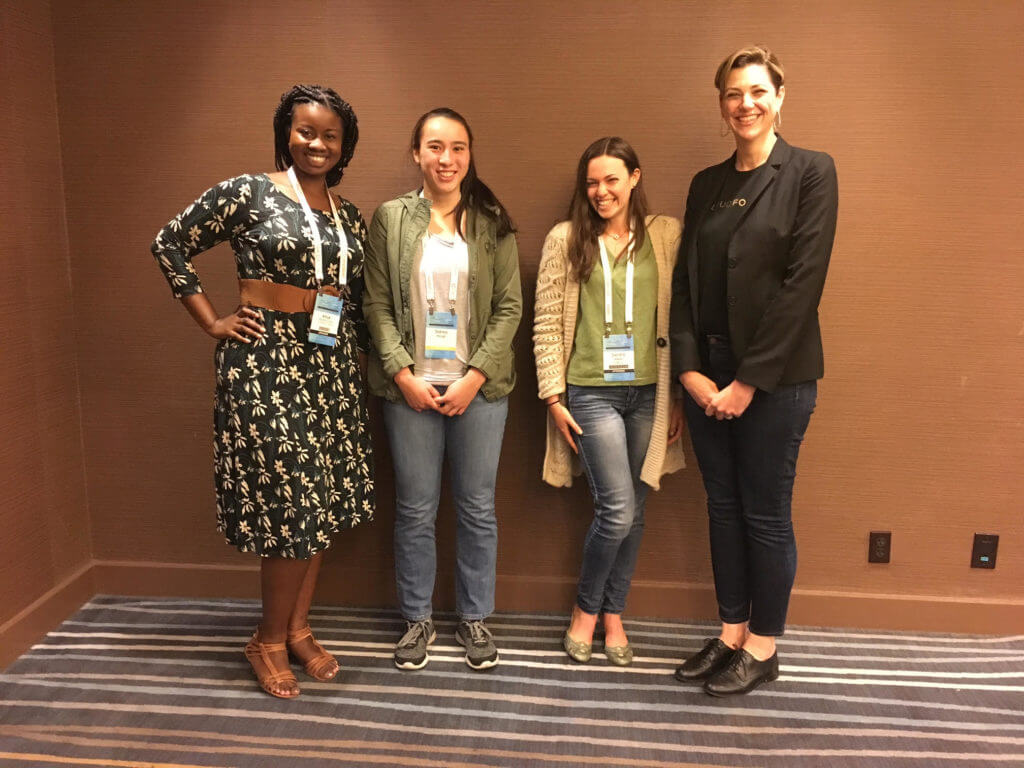 I especially enjoyed the Diversity Luncheon where we had the opportunity to hear so many accomplished and inspiring women speak.  Overall I took away a lot from the experience and it gave me a valuable glimpse into the world of development. – Sidney, Junior Ambassador
The Junior Ambassadors were guests at the Diversity Luncheon as well, which featured a panel hosted by Karen Holtzblatt and a presentation on why women are twice as likely to leave the tech profession mid-career–and how we can change that. We heard stories from Kim Bannerman at Google, Cornelia Davis at VMware, Opal Perry at Allstate, Dr. Kyla McMullen from University of Florida, and Rachel Reinitz at IBM.
Being surrounded by people so committed to learning and teaching made me excited for my future in technology. – Sandra, Junior Ambassador
This year, our Diversity Luncheon will feature the new work of Jennifer Cloer, director and founder of Wicked Flicks Productions. Jennifer is the director of The Chasing Grace Project, a six-episode documentary series about women in tech. We are thrilled to be screening Episode One: Eighty Twenty at the 2018 Diversity Luncheon. This episode tackles the gender pay gap, considers its financial and emotional tolls, and weighs whether it is forcing women out of tech. The trailer is available to watch here; we will screen the entire episode at the Diversity Luncheon.
Following the screening, Jennifer will sit down with Cloud Foundry Foundation Executive Director Abby Kearns to discuss the impact of the gender pay gap–which can lead to an astounding $1 million in lost wages over the course of a woman's career–and how women rise above this adversity to soar in their careers. You can read Jennifer's post on Women's History Month here.
Please join us at the 2018 Cloud Foundry Summit Boston Diversity Luncheon on Friday, April 20, from 12:30 to 2:00 pm. Learn more and register for the luncheon here, and register for Cloud Foundry Summit in Boston this April 18-20.